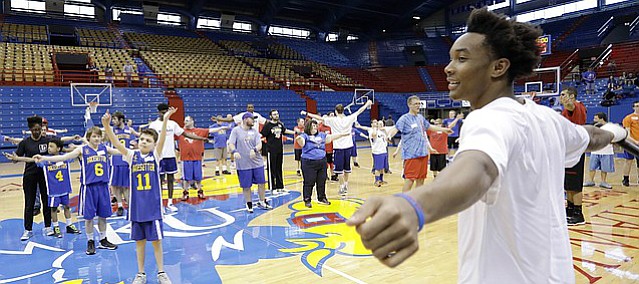 Only a few days away from an opportunity to clinch another Big 12 title, Kansas basketball players spent their Sunday afternoon helping other teams.
The Jayhawks participated in the 33rd-annual Wilt Chamberlain Special Olympics clinic, hosting nine teams from Special Olympics Kansas at Allen Fieldhouse.
In the two-hour clinic, KU players were instructors at specific stations around the fieldhouse floor. One area was for layups. Others for ball handling and free throws. There was dunking on lowered rims.
"I know the campers are so appreciative and the families are, but I think we get as much out of it, or more, than what the campers actually do," Kansas coach Bill Self said.
Enthusiastic campers from throughout the state cheered when KU players were announced by Self and had plenty of smiles throughout drills.
Self had light-hearted introductions for most players, noting junior Dwight Coleby was the most laid back and Lagerald Vick is "Mr. Energy" off of the bench.
"We all look forward to it," senior point guard Frank Mason III said. "We all have a great time. It just shows you a lot about the program, just for them to have this event. It means a lot to us."
Self said it'll be "back to business" Monday and the Jayhawks have their eyes set on clinching at least a share of their 13th-straight Big 12 title against TCU on Wednesday (6 p.m., ESPN2).
Kansas (24-3, 12-2 in Big 12) owns a three-game lead in the conference standings over second-place Baylor with four games remaining.
"We're not celebrating yet," Mason said. "We're still focused on TCU. We're still trying to finish the Big 12 off on a good note."
With a big cushion in the standings following Saturday's 67-65 road win at Baylor, Self told players in the locker room afterward that some of the pressure is gone.
Surviving a tough stretch in the schedule, the Jayhawks won road games against Kentucky, Kansas State, Texas Tech and Baylor in the past month.
"I just hope our guys can just relax and play with a free mind and those sorts of things, which I think we have for the most part," Self said. "I still think we've got another step we can take to play better. We haven't shot the ball well in a while and that's one of the strengths of our team."
Improving defense
During Saturday's win over Baylor, the Jayhawks held the fourth-ranked Bears without a point for the final 3:34.
Baylor had five possessions in the last three-and-a-half minutes: two turnovers and four missed shots, which included one offensive rebound.
The Jayhawks were out-rebounded by eight, but Self called it "a little misleading" because of Baylor's eight dead-ball rebounds to KU's zero.
"Our defense was probably never as bad as what I thought," Self said. "It was bad based on past teams that we've had here. I still don't think we're great defensively, but I thought we really guarded (Saturday)."