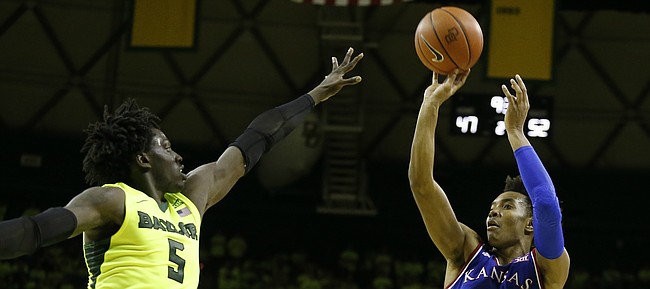 Throughout Saturday's 67-65, scratch-and-claw thriller at No. 4 Baylor, Kansas guard Devonte' Graham could feel that it was not his day shooting the basketball.
But the Jayhawks' junior and third-leading scorer had no idea how rough things truly were until he glanced at a box score after the game.
"I honestly didn't know I was 1-for-12 and 1-for-9 from three," said Graham, holding back laughter and amazement. "But, at the end of the day, it doesn't even matter. As long as we got the 'W' that's all that matters."
That win came, in no small part, because of what Graham was able to do elsewhere on the floor. His seven rebounds tied for the team lead and he chipped in with four assists, one steal and made all four of his free throw attempts.
"Devonte' couldn't throw it in the ocean," KU coach Bill Self said after the win. "But he was aggressive."
So much so that it could be argued that Graham actually deserved a fifth assist after his missed jumper with 15 seconds to play led to Landen Lucas' offensive rebound and ensuing free throws that won the game.
Graham is too much of a team player to lobby for that statistic, but he had no problem firing up the shot with the game on the line and credited those around him for giving him the freedom to do it.
Whether it was quick words from Self, encouragement from assistants Jerrance Howard, Norm Roberts and Kurtis Townsend or even a subtle look from KU's leading scorers Frank Mason III and Josh Jackson, Graham said he continually believed that taking open shots was the right play.
"It's just the confidence that my coaches and my teammates have in me," said Graham, who now is averaging 13 points and shooting .433 this season. "Every time I miss a shot, Coach Self, Coach Howard, Coach T, Frank, Josh, everybody just keeps saying, 'Keep shooting the ball, next one's gonna fall.'"
Graham, who showed up to Sunday's Special Olympics clinic with his right hand wrapped — said Self, "I didn't know that he did anything to his hand. He said it was swollen today." — was far from the only Kansas player to struggle with his shot on Saturday. Svi Mykhailiuk was just 1-of-6 overall and the team, as a whole, made tied for the second worst 3-point percentage of the season by making 5 of 20 from deep.
Asked what it said about this team that they could beat a top-five team on a night when few shots seemed to fall, Graham stood a little taller and happily explained.
"We don't have to make shots to win the game," he said. "We can get tough, grind it out defensively, other guys step up and make big plays, get big rebounds, hustle plays and blocking shots, taking charges. Little things like that help us win."
Graham had more than a few of those plays on Saturday, and his teammates said they appreciated both those along with his willingness to keep firing.
"It just shows us what we can do," Jackson said. "The thing I like about us is I think we've got a bunch of winners on our team. Nobody's a quitter, everybody keeps fighting and we all believe in each other."