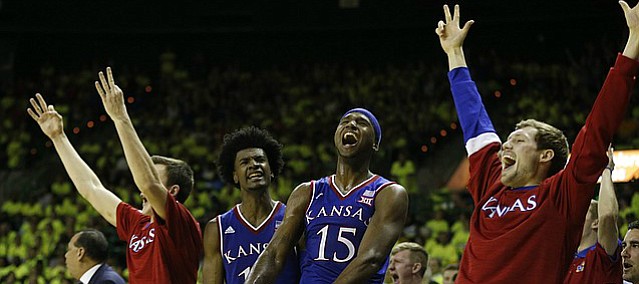 Waco, Texas — On a day when No. 3 Kansas made just 5-of-20 3-point attempts in a 67-65 win over No. 4 Baylor, back-to-back 3-pointers just before halftime helped save the Jayhawks.
Trailing by a dozen in a game that quickly had gotten away from them, the Jayhawks got a 3-pointer from Frank Mason III with 38 seconds to play in the half and another from Josh Jackson on a pass from Mason that beat the halftime buzzer.
"The two biggest possessions of the game, other than the last one, was the two threes we made to end the half, to take it from 12 to six," KU coach Bill Self said after the victory. "If it's 12, they have total control and momentum, but we kind of got a little of that back with those two plays."
Junior guard Devonte' Graham, who finished an uncharacteristic 1-of-9 from 3-point range and ended a streak of eight consecutive games with multiple 3-point makes, took it one step further and said it was Jackson's swish as time expired that elevated the Jayhawks' confidence heading into the locker room at halftime.
"That was a big momentum boost going to the half down six instead of nine," Graham said.
Photo Gallery
Kansas basketball v. Baylor
View a gallery of images from Saturday's game between the Jayhawks and Bears in Waco, Texas.
Sitting pretty
KU's win over Baylor, coupled with West Virginia's double-overtime victory over Texas Tech and Iowa State's win over TCU put the Jayhawks three games up in the Big 12 standings with four games to play.
With two of those games coming at home and three of the four coming against teams currently in the bottom half of the Big 12 standings, the Jayhawks are sitting in what Self called "good position" heading into the homestretch of their quest toward a record-tying 13th consecutive Big 12 regular season title.
Even so, the KU coach left Waco with his mind locked on the Jayhawks' most recent win.
"I'm happy that we're in a good position in the league race," Self said. "But I think we should just enjoy this and rest a little bit and think about the league race on Monday."
Podcast episode
Bill Self on another tough Kansas victory over a Top 5 team
That said, Self's players seemed well aware of just how big Saturday's result was for their goal of keeping the Big 12 title streak alive.
"This was a huge win," Graham said. "And now we just gotta focus even harder. It's on to the next one now."
Added Mason: "It's a huge win for us. It could've been a one-game lead with a loss and we're up three now. Now we just get ready for practice and lock in for TCU (Wednesday at Allen Fieldhouse)."
Motley a monster
For the second time this season, Baylor junior Johnathan Motley delivered big numbers against the Jayhawks, finishing Saturday's game with 19 points and nine rebounds after tallying 16 and 10 in Baylor's loss in Lawrence.
Landen Lucas, Josh Jackson and even KU's guards all tried to slow Motley down and Lucas talked about their plan of attack after the game.
"Keep him off the glass, make sure he doesn't catch it in good positions and just try to limit him as much as possible," Lucas said.
Although the Jayhawks did a decent job at times, particularly while preventing Motley from getting a touch on the Bears' final possession, their effort took its toll.
"It's definitely a full-time job guarding him," Jackson said. "You can never take a break."
Free throws huge
Kansas got to the free-throw line 20 times, compared to just 11 for Baylor, and, perhaps more importantly, made 80 percent.
Mason and Graham combined to go 12-for-12 from the line and Lucas hit the two biggest charity shots of the game with 11.5 seconds to play.
Asked about his team's ability to get to the line with such regularity, Self needed just three words to explain the reason.
"Driving the ball," Self said. "You've gotta put the ball in Frank's hands. There's other guards like this, but there's only a few that it's next to impossible for one guy to stay in front of.... There late, he did such a good job of driving the ball downhill."
Shout-out to Doc!
Saturday's pre-game prayer, a customary part of every Baylor home basketball game, included, among other more common themes, a mention of gratitude for Dr. James Naismith inventing the game of basketball in 1891.
This and that...
KU now leads the all-time series with Baylor 29-4, including a 12-2 mark in Waco.... Kansas has won 10 consecutive games over the Bears, including four in a row after trailing at the half.... KU is now 8-1 in true road games and 12-2 away from Allen Fieldhouse.... The Jayhawks come-from-behind victory marked the eighth time this season KU has won after trailing at halftime.... KU has won 12 or more league games for the 17th consecutive season.... The Jayhawks have recorded at least 24 wins in 12 consecutive seasons.
— See what people were saying about the game during KUsports.com's live coverage.
---
More news and notes from Kansas vs. Baylor
---