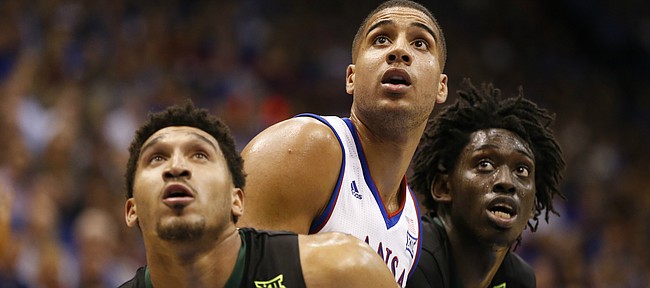 The last time the Kansas men's basketball team faced Baylor menace Johnathan Motley, the Jayhawks watched the junior forward go off for 14 points in one half and barely move the needle for two more points in the other.
Both of those 20-minute time periods proved to be learning experiences for the third-ranked Jayhawks, who will try to utilize lessons from each when they face Motley and No. 4 Baylor at noon on Saturday in Waco, Texas.
The key takeaway? Send the house.
"Just being in strong help, playing team defense and making it less of a one-on-one situation was definitely helpful," said KU senior Landen Lucas. "And we did a better job of that in the second half.
"Just try to make sure he didn't catch it in areas that are easy to make quick moves and score. The other thing we kind of emphasized at halftime was, when he does catch it outside of the area, the guards helping down and just showing that they're around kind of makes him hesitate enough just to discourage some things."

While that plan may curb Motley's ability to score in bunches, the thing that makes the Baylor star so difficult to defend is his versatility.
Not only is Motley a monster scorer — he has reached double figures in nine consecutive games and is averaging 20 points per night in the past three — but he also plays the game with his head. He knows when to set up teammates instead of trying to force his own action and uses angles, anticipation and all-out effort to make plays when nothing seems to be there for the taking.
"We did a better job on him the second half," KU coach Bill Self admitted. "But he's such an unselfish kid and player that, it seems to me, if he gets a bad touch he becomes a passer immediately. In the first half, we didn't put him in position to be a passer as much."
Lucas called Motley a "tough" match-up and said he was on a short list of some of the most talented Big 12 big men he has been asked to guard during his Kansas career.
The 6-foot-10, 230-pound junior from Houston enters the rematch with Kansas ranked fourth in the Big 12 in scoring (16.7 points per game), first in rebounding — both offenisve (3.4 rpg) and defensive (6.1) — sixth in field goal percentage (.527), 14th in free throw percentage (.706) and 13th in blocks per game (1).
The Bears are 37-9 all-time when Motley reaches double figures, which Lucas said often looks easier than it should.
"When he does get a one-on-one situation and he makes an initial move, he's very good at keeping his pivot foot and finding a way to get a shot off," Lucas said. "That's difficult to guard. He definitely has a lot of stuff he can pull from to get to the basket. Because of his length and his size (even) if I'm there in good position, he's still able to get a shot off."