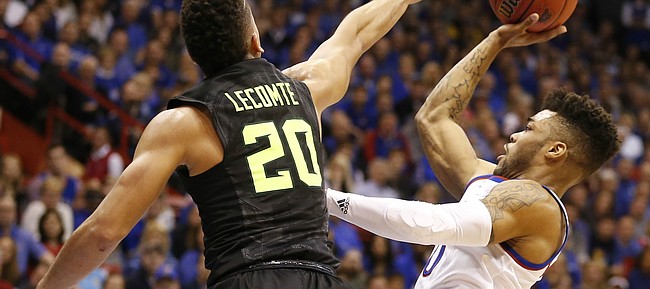 No. 3 Kansas Jayhawks (23-3 overall, 11-2 Big 12) at No. 4 Baylor Bears (22-4 overall, 9-4 Big 12)
Time: 12 p.m. | Location: Ferrell Center, Waco, Texas
TV: CBS | Radio: IMG Jayhawk Radio Network
Log on to KUsports.com for our live game blog coverage and follow the KUsports.com staff on Twitter: @KUSports @mctait @TomKeeganLJW @bentonasmith & @nightengalejr
Keys for Kansas
1. (Team) Defense wins
Because of Baylor's big front line, the Jayhawks will need all five players to be working as one on the defensive end to have a chance in this one.
That's especially true when Baylor big men Johnathan Motley and 7-footer Jo Lual-Acuil are on the floor to true and of particular importance on the glass, where Baylor leads the Big 12 with a +7.7 rebounding edge.
"They played volleyball in the first half against us on the offensive boards," said KU coach Bill Self of the Jayhawks' first meeting with the Bears. "And we've gotta do a better job of blocking out and hitting somebody, because if it's a stand-and-jump contest, they're gonna win."
In addition to helping clean the glass, KU forward Landen Lucas, who grabbed a game-high 11 boards in the first meeting with Baylor, said KU's guards can help disrupt the BU big men when they catch the ball in the post by trapping and diving down with active hands.
2. Up and at 'em
Typically, match-ups of Top 5 teams are destined for prime time but nobody knew this would be a match-up of Top 5 teams when the schedule was made.
That's why it has an earlier-than-normal noon tip time, but Self said starting early was not an advantage either way.
"If you win, you (can) get home and watch everybody else sweat, so, yeah, it's great," said Self when asked if he liked the early beginning. "But that means the coaches even have to get up at 6:30 or 7:00 (a.m.) so it sucks.
"I don't think the (early) starts have done us any favors this year, but I don't think it's hurt us. We played a game against Villanova many years ago when they hammered us and I think it was an 11 o'clock start Eastern time, 10 o'clock start our time, and we didn't wake up until the game was over. So hopefully that's not the case this time."
3. Get out and go
Scoring, though difficult against the Big 12's top-ranked defensive team, is a key component to knocking off the Bears.
Just five teams all season — including Kansas in the first meeting — have scored more than 70 points against Baylor, which owns a 2-3 record in those games.
"To score 73 points against them, we probably were better offensively against them than I thought during the game," Self said. "Because they don't give up very many points."
While transition points (9 in the first meeting) and scoring off of Baylor turnovers (23) are important ways to get easy buckets, Self said the best hope was still to run good offense in the half-court.
"We have to attack their zone better," he said. "They'll play (man-to-man) 50 percent of the time, but you can go through long stretches of not attacking that zone very well and look pretty bad."
That approach highlights the importance of KU's 3-point shooting and freshman Josh Jackson, who works extremely well in the high post, is a terrific passer and has a lightning quick first step that can catch a flat-footed zone off guard.
Jackson finished with 23 points on 8-of-13 shooting against Baylor earlier this month and the Jayhawks, as a team, knocked down 9-of-20 3-pointers, good for 45 percent.
Mega Matchup
KU senior Frank Mason III vs. BU junior Manu Lecomte
Saturday's showdown features a rematch between two of the top point guards in a point-guard-loaded conference and both Mason and Lecomte will have some work to do to match their output from Feb. 1.
Mason, the Big 12's leading scorer, finished with 19 points, 6 assists, 4 rebounds and 3 steals in 38 minutes but shot just 3-of-12 from the floor. He made up for it by going 12-of-12 from the free throw line to help Kansas pull out the 73-68 victory.
Lecomte had similar totals but went about getting them in a much different manner. He finished with 16 points on 6-of-11 shooting, including a 4-of-6 clip from behind the 3-point line.
"I thought it was two really good guards going against each other out there," Self said. "Frank and him were matched up the majority of the time and I thought (Lecomte) played extremely well. The thing about him that was so good for them was he was so efficient. He didn't have to hunt shots or take a lot of shots to get it."
Jayhawk Pulse
Fresh off of a comeback victory on Monday night that still had the Jayhawks smiling on Thursday, Kansas heads south with an opportunity to all but end the Big 12 title race.
Neither Self nor the KU players have spent much time talking about the league race during recent weeks and that did not change this week. It was clear that everybody in crimson and blue knew the magnitude of the opportunity in front of them, but they focused as much on the chance to test themselves against one of the top teams in the country as they did the chance to take a three-game lead in the Big 12 standings with four games to play.
Self gave his team two days off this week and the rest did wonders for their minds and bodies. Even still, Lucas said this veteran team that has played six consecutive games decided by six points or fewer was not worried about rest of wearing down — only winning.
That's why the Jayhawks are 5-1 in those six games and have shown a tendency to play their best defense late with the game on the line.
"If we could play that way throughout the whole game, it'd be great," Lucas said. "Obviously focus goes up and just experience. A lot of guys play a lot of minutes, so, Frank and Devonte' (Graham) and all those guards, when you're playing that many minutes it might be hard to do that for the whole game. But we understand that, when it's the last couple minutes, you need to pull it together and play hard for those last couple minutes. At the end you just realize it's only a couple minutes so you just get it together and worry about the fatigue another time."
Probable Starters
No. 3 Kansas
G – Frank Mason III, 5-11, 190, Sr.
G – Devonte' Graham, 6-2, 185, Jr.
G – Josh Jackson, 6-8, 207, Fr.
G – Sviatoslav Mykhailiuk, 6-8, 205, Jr.
F – Landen Lucas, 6-10, 250, Sr.
No. 4 Baylor
G – Manu Lecomte, 5-11, 175, Jr.
G – King McClure, 6-3, 215, Soph.
G – Ish Wainright, 6-5, 235, Sr.
F – Johnathan Motley, 6-10, 230, Jr.
F – Jo Lual-Acuil Jr., 7-0, 220, Jr.
More like this story on KUsports.com