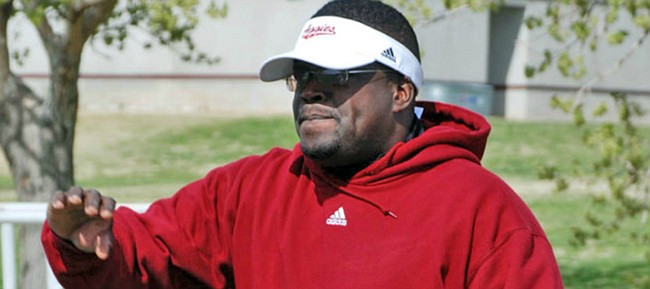 Looking to bring an experienced defensive assistant to his third Kansas football staff, head coach David Beaty officially announced Friday the addition of former Ohio defensive line coach Jesse Williams.
During the past five seasons of a coaching career spanning 20-plus years, Williams worked on Frank Solich's Ohio staff, most recently coaching 2016 MAC Defensive Player of the Year Tarell Basham, who became the Bobcats' all-time program sack leader (27). Basham is projected as a potential second-round pick at this year's NFL Draft.
"Jesse brings a wealth of technical knowledge that will be extremely valuable in our defensive line room," Beaty said in a press release, "because it all starts with those guys up front, especially in the Big 12 Conference. The productivity he has gotten from his players from a run and pass-rush standpoint is impressive. His defensive lines have consistently become a unit other teams game-plan around, because of his ability to find, evaluate and teach the position."
Ohio defeated Beaty's Jayhawks, 37-21, at Memorial Stadium this past September, when the Bobcats limited Kansas to 26 rushing yards and made three tackles for loss. In 2016, Ohio ranked fifth in the nation in rushing defense (104.4 yards a game), tied for 12th in sacks (3.14 a game) and 20th in tackles for loss (7.4 a game).
Now that Williams will be on KU's sideline, he inherits two of the most talented players on the Jayhawks' roster, in juniors-to-be defensive end Dorance Armstrong Jr. and defensive tackle Daniel Wise.
"I'm extremely excited to be able to work with Coach Beaty and his staff," Williams stated in KU's release. "I'm looking forward to working with the caliber of a guy like (defensive coordinator) Clint Bowen and the talent that is already in that defensive line room. I can't help but be excited. I've never heard a bad thing about Lawrence, and my family and I are extremely grateful for this opportunity."
Previously, Williams has worked as a defensive assistant at New Mexico State, Nebraska-Kearney and Colorado State, as well as San Jose State, Eastern Washington, Holy Cross, Portland State and Sonoma State (Calif.).
Williams, a graduate of Sonoma State, and his wife Felicia have three children: Jessien, Trae and A.J.