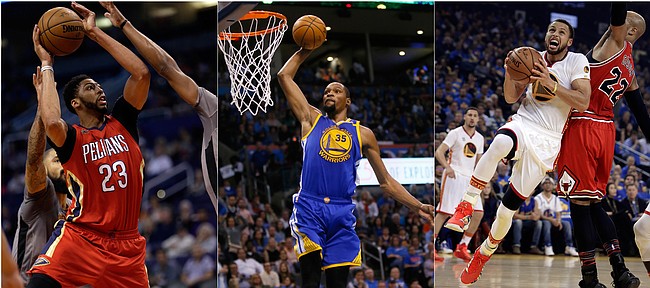 Bill Self, 14th-year head coach at Kansas, is closing in on his 13th consecutive Big 12 regular-season title, has coached the school into the Elite Eight six times, the Final Four twice and to a national title in 2008.
Self has coached 26 players at Kansas who went on to play in the NBA, including four he inherited from Roy Williams, and recruited 10 NBA lottery draft picks with No. 11 coming in the June draft.
Yet, Self still has not had the pleasure of kicking back with a plate of BBQ and a strawberry soda to watch on his TV one of his Kansas players compete in the NBA All-Star Game, although he did coach three-time All-Star Deron Williams at Illinois.
As for coaching against players who went on to play in the league's splashy mid-season exhibition, that's another story entirely.
Reader poll
Joel Embiid

48%

941 votes

Josh Jackson

4%

85 votes

Marcus Morris

0%

4 votes

Markieff Morris

0%

13 votes

Andrew Wiggins

46%

892 votes
1935 total votes.
In his first nine seasons at Kansas, Self coached in 18 games against a team that had a future NBA All-Star playing for it. Self went 11-7 in those games and one of the victories came against defending national-champion Florida, which had two future All-Stars (Al Horford and Joakim Noah).
Eight players selected to compete in Sunday's All-Star Game in New Orleans combined for 12 games against Kansas in college. Wooden Award winner Kevin Durant of Texas averaged 34.5 points, 9.5 rebounds, three steals and four blocked shots in his two losses to KU. Kentucky's Anthony Davis, also a Wooden winner, averaged 10 points, 11 rebounds and 6.5 blocks in two victories against the Jayhawks.
Injuries prevented Oklahoma's Blake Griffin, another Wooden Award winner, from making an impact against KU. He suffered a knee injury five minutes into his lone appearance in Allen Fieldhouse in 2008. As a sophomore, Griffin did not suit up against Kansas, sidelined by a concussion.
UCLA's Russell Westbrook played just five minutes — although they were memorable because of how high he flew above the rim during a four-point night — when the Bruins knocked KU out of the tournament in the 2007 Elite Eight in San Jose.
Villanova's Kyle Lowry and Michigan State's Draymond Green came off the bench as freshmen in their victories vs. Self.
Some year soon, perhaps as early as next February, Self's All-Star drought will end when either Joel Embiid or the Philadelphia 76ers, Andrew Wiggins of the Minnesota Timberwolves could gain the honor. Josh Jackson will enter the race to become Self's first KU All-Star and Marcus and Markieff Morris can't be discounted.
— Visit KUsports.com to cast a vote for the player you think will become Bill Self's first Kansas NBA All-Star.
More like this story on KUsports.com