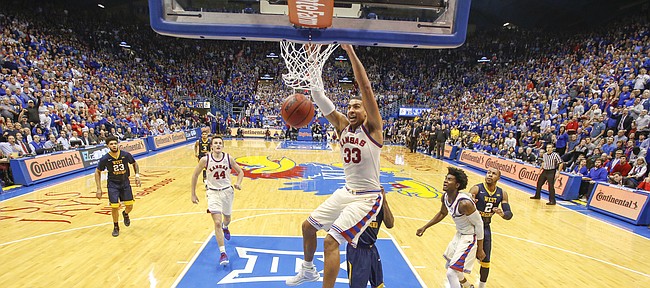 Even with a road game at No. 4 Baylor looming this weekend, one of the most popular topics at Thursday's media session with the Kansas basketball team was still the Jayhawks' wild and crazy come-from-behind victory over West Virginia on Monday night at Allen Fieldhouse.
After gutting out an 84-80 overtime victory despite trailing by 14 with less than 3:00 to play in regulation, the Jayhawks got a couple of days off this week to rest and recharge their bodies and minds.
But even then, thoughts of what some are calling the most memorable comeback in Allen Fieldhouse history were fresh in their minds.
"I watched the game the next day and watched the ending and it was exciting," said senior forward Landen Lucas, who finished with 8 points and 13 rebounds in 32 minutes on Monday. "It's weird, watching back the games I feel more emotions and nervous and stuff, even knowing the outcome, than I do in the game. I think I've just been a part of so many games and stuff, and you just try to take it play by play and just worry about winning in the moment that it's not really until you watch it back that you really see just how emotional swings there were throughout the end of that game."
West Virginia coach Bob Huggins was asked Thursday morning if his team had been able to wipe the memory of Monday's loss from the minds of his players, and Huggins responded simply with, "I don't know if I could if I tried."
While a game like that is clearly tough for the losing team, getting past it is no picnic for the winning side either. That's why Self also gave his team a couple of days off this week, and he's hopeful that the third-ranked Jayhawks (23-3 overall, 11-2 Big 12) will move from here in a much different direction than they did after last season's similarly exhausting, triple-overtime victory over Oklahoma.
"Last year, when we played OU in three overtimes, I thought that that would kind of propel us into better play, and it did the exact opposite and OU got a lot better fast right after that," Self said. "So I don't know if there's an exact formula. Winning is certainly a lot better than not winning, but either way we were fatigued. I actually am glad we're playing Baylor on Saturday because that gets everyone's attention real quick."
Saturday's game — noon tip-off in Waco, Texas, on CBS — figures to be a monster moment in the race for the Big 12 regular season title. A win moves Kansas to three games up with four to play in its quest for Big 12 title No. 13 in a row. A Kansas loss pulls Baylor (22-4, 9-4) within a game of the lead with four games still to play.
Despite all of the factors concerning preparation, scouting report and pre-game routines remaining the same, Lucas said having a little cushion might allow the Jayhawks to play with less weight on their backs.
"This is a game that we would like to win, obviously," Lucas said. "With the way the Big 12 is, there's so many good teams that anybody could make a late push and we don't want to open any doors for that. So Saturday's a big game for us. We are going down there with a free mind, but also taking it very seriously."
Added Self of Saturday's showdown: "I think it's huge ... But it's still just a little bit too early to be talking about the league race, and that will not be a point of motivation or emphasis for us going down there. We've got our hands full playing a Top 5 team in the country on their floor. We don't need to make it more confusing or whatnot by saying this is for the league race."