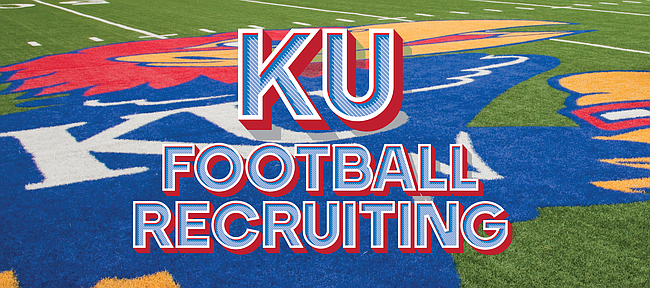 And then there were four.
Once a group of six, the number of Class of 2018 Louisiana prospects committed to the Kansas football program again shrank on Thursday, when three-star defensive lineman Nelson Jenkins announced his intentions to play closer to home, at LSU.
"I'd like to thank (head coach Ed Orgeron) for offering me a scholarship to play football at LSU," Jenkins wrote on Twitter, adding in all caps, "I AM OFFICIALLY COMMITTED TO BECOME A TIGER."
A little more than a week ago, Jenkins became the sixth high school junior from "The Boot" to commit to David Beaty's Jayhawks, thanks in part to the recruiting efforts of KU running backs coach and Louisiana native Tony Hull.
A 6-foot-4, 290-pound defensive lineman from Plaquemine High, Jenkins has since deleted a tweet from February 6, in which he mentioned Beaty, that read: "This is Nelson Jenkins and I would like to say I'm committing to the University of Kansas Jayhakws."
Jenkins' decision to back off his non-binding verbal commitment to KU came four days after four-star receiver Ja'Marr Chase did the same.
As of Thursday afternoon, KU still had four other commitments from Louisiana on board: four-star receiver Devonta Jason, four-star defensive back Corione Harris, three-star defensive back Aaron Brule and three-star running back Anthony Williams.
Brule, a 6-foot safety, is Chase's high school teammate at Rummel.
Before seeing two potential Class of 2018 signees de-commit, Rivals.com ranked KU's recruiting class as high as No. 2 in the nation. Now with six total prep juniors still on board — including Jason, a 6-foot-3 receiver from Landry-Walker who is ranked the 35th-best prospect nationally, and 6-1 cornerback Harris, the No. 60 junior in the country according to Rivals, and Jason's high school teammate — the Jayhawks' list of commitments ranked eighth in the country as of Thursday afternoon.
Penn State currently holds the top spot, followed by Notre Dame, Miami (Fla.), LSU, Florida State, USC, Clemson and Kansas.