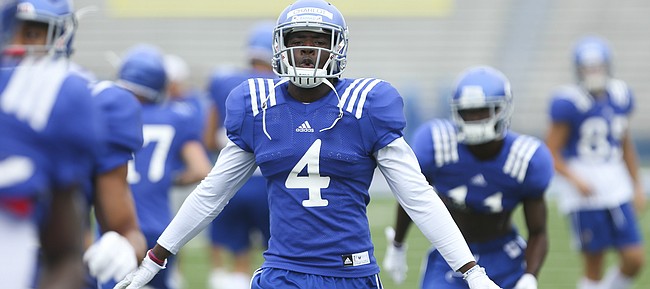 A four-star recruit out of Patterson, Louisiana, Daylon Charlot lived through an experience about which the vast majority of high school football players can only dream. An elite wide receiver sought after by many of the nation's top college programs, Charlot signed with the ultimate powerhouse, Alabama.
However, after one season with Nick Saban's Crimson Tide, and appearing briefly in five games for a team that won the national championship, Charlot decided to leave behind the glory of SEC royalty. This past August, ahead of what would've been his sophomore season with Alabama, Charlot resurfaced at Kansas, a program long serving as the butt of Big 12 jokes.
"I just felt like I could make a big impact," Charlot said recently of his decision to spurn Saban's requests for him to stay, after making two catches for nine yards with 'Bama, in 2015. "The Big 12 throws the ball. That's what receivers want. Receivers want the ball in their hands. Play-makers wanna make plays."
A 6-foot, 195-pound target who has elevated expectations for 2017 after sitting out as a transfer during his first fall at Kansas, Charlot envisions himself influencing the outcomes of games at KU, which he never really got a chance to do with Alabama. In his mind, he's poised for the type of breakout season that could land him on the watch list for the Biletnikoff Award, the nation's top honor for pass-catching threats.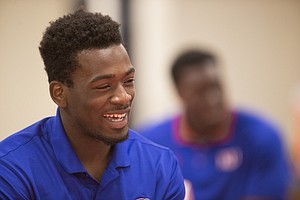 "That's my goal — that's one of my goals — for that to happen," Charlot revealed of his Biletnikoff aspirations. "I hope we go to a bowl game, because I feel like we're gonna have like the best receiving corps, not in the country, but in the Big 12, because we push each other and we work hard every day."
Receivers Steven Sims Jr. and LaQuvionte Gonzalez and quarterbacks Carter Stanley and Peyton Bender all have impressed Charlot since he arrived in Lawrence, making him optimistic about the offense for David Beaty's third season, despite its recent struggles and KU's 2-22 record during the past two years.
"We're all pushing each other every day to improve," Charlot said.
Even while playing on the scout team this past fall, the receiver found ways to stand out as a leader. Former KU receivers coach Jason Phillips said months back Charlot's Alabama pedigree garnered the respect and attention of his teammates.
Once he became a Jayhawk, Charlot said his message to fellow receivers was simple: Don't limit yourself.
"At Alabama it was like you're goin' for it, like there's no limitations," Charlot explained. "I just tried to make them be the best that they could be, like every day. I'd push 'em and I'd work 'em and I'd get on 'em. I see a lot in those players. I don't know, it was crazy."
Behind the scenes, Stanley could see Charlot getting in his teammates' heads — in a good way.
"Some guys talk trash; he's not really into that," Stanley said of the transfer expected to immediately contribute. "You've just gotta bring it every day. He's gonna come straight at you and he's gonna bring it."
In Stanley's eyes, Charlot is the most competitive player on the team, and that's how his presence had reverberations around the football complex the past several months, even though he couldn't play in actual games yet.
"I think it's personality," Stanley said of how Charlot already has shaped the program. "Just natural personality, natural leadership, natural competitiveness. It's already helped us out so much."
While his ambitious nature could have made watching KU games from the sidelines difficult in 2016, Charlot found a way to make it easier.
"I just looked at it as a job still. I continued to go out there and work hard and push myself, so it could be easier for this year," he said. "If I'd have took a year off, it would be harder for me this year. I feel it's gonna be a great year for me this year, and my team."