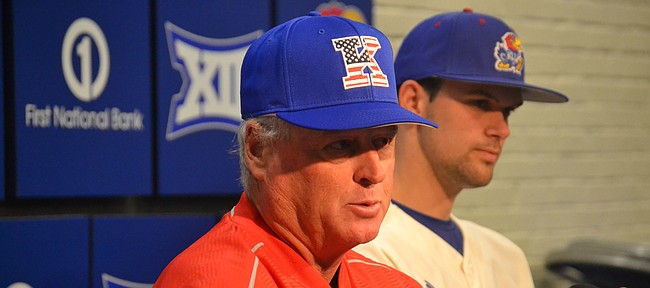 It has become an annual tradition for Kansas baseball coach Ritch Price to start getting excited around this time about the prospect of returning to the diamond.
But this year, he may be even more eager than in years past due to the unknown. Price expects major contributions from several freshmen and other newcomers after losing 54 percent of the team's run production as well as the staff ace from last year's squad, which went 20-35-1.
"Like every team in the country, we are really excited to get going," Price said Wednesday during the baseball team's media day. "You will be shocked when you see how young our team is that we put on the field. There could be as many as five freshmen and three sophomores playing at one time."
The Jayhawks, who have finished dead last in the Big 12 in each of the last two seasons, will have the tough task of replacing their best offensive weapon, catcher Michael Tinsley, as well as their Friday night starter, Ben Krauth.
Both players were selected by the reigning American League champions, the Cleveland Indians, in last summer's draft. Tinsley went in the seventh round and Krauth was selected in the 16th.
The early favorite to take Krauth's spot at the head of the rotation is junior Sean Rackoski, who missed all of last spring due to an injury. The 6-foot-7 righty has a career 6.71 ERA in a total of 60 1/3 innings.
However, replacing Krauth (5-6, 3.33 ERA in 92 IP) will not be accomplished by one player, if at all.
"We are not going to replace him," Price said. "But the good thing for us is we will be better on Saturday, Sunday and Tuesday. So we hope to make up for it by pitching at a much higher level those three days."
Kansas is expected to have a little more depth on its staff due to the combination of newcomers and guys returning from injury.
A pair of left-handed junior college transfers are expected to round out the weekend staff. Jeider Rincon is penciled in for this Saturday, while Taylor Turski will take the ball on Sunday against 2015 national champion and No. 16-ranked Virginia.
Meanwhile, highly-touted freshman Ryan Zeferjahn will get the nod in the team's home opener Tuesday against Omaha. The Topeka Seaman product was drafted in the 37th round by the Tampa Bay Rays, despite declaring he wouldn't go pro, and figures to be in the weekend mix at some point this spring.
"He's been as good as advertised and will continue to get better throughout the season," Price said.
The only sure thing on a pitching staff with several new faces is KU's closer, senior Stephen Villines. The righty has had the most miles over his career, logging 151 2/3 innings in 82 appearances, while posting a 2.37 ERA.
And yet, Villines may be even better for his final campaign. He worked on his breaking ball and changeup this past offseason, which has made his fastball even better as it comes at batters from the side-arm angle.
"This summer and during the fall I worked on my off-speed and worked on my control and command," Villines said. "I've been really improving on that the last five months or so."
On the offensive side, junior shortstop Matt McLaughlin is one of the few familiar names in the lineup card from last year. He started in all 56 games last spring, hitting .256 with 22 RBIs and an on-base percentage of .372.
This year, McLaughlin plans to put an emphasis on leadership, as he expects to guide a new group of infielders.
"I think this team's culture is different," McLaughlin said. "I feel like we have spent so much more time together. Not just on the field, but off the field as well."
Kansas will travel to Charleston, S.C. this weekend. KU will play The Citadel at 3 p.m. Friday.