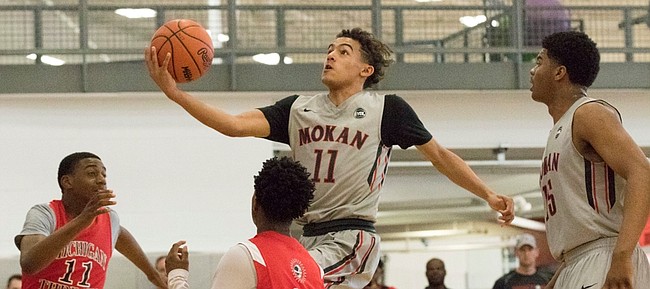 If ever there were an even split for a high-profile basketball prospect's college decision, this is it.
Five-star point guard Trae Young, of Norman, Okla., is set to reveal his long-awaited decision at noon Thursday at Norman North High. And a quick glance at nearly every legitimate recruiting site out there has this one coming in as a dead heat between Kansas and Oklahoma.
Analysts for weeks have pegged KU and OU as the favorites for Young, both because of his connection with the programs and coaching staffs, as well as each school checking different boxes on what Young desires from his school of choice.
The case for Kansas is simple: Come to a blue blood program, soak up the exposure, tradition, fan adoration and coaching from Bill Self, and take Frank Mason III's spot in the starting lineup.
There were, of course, many more factors that went into KU's multi-year recruitment of Young, a 6-foot-2, 170-pound guard ranked No. 14 overall by Rivals.com. But those are the bullet points that jump out, and Young and his family know them.
"The first time Trae got that call from Coach Self and (KU assistant) Norm Roberts, it was just really exciting and a dream come true," his father, Ray, said recently on Rock Chalk Sports Talk on KLWN. "Obviously, (the visit to KU) was something special. Trae went to KU camp as a freshman. Their high school team traveled up there and it was his first time being in Lawrence and seeing the facilities. I always told him as a kid that I think every kid, no matter if they play against them or play there, should see that arena and just feel the history that's in there."
Oklahoma has nothing that can compare to or compete with the tradition of Kansas basketball or Allen Fieldhouse — at least not on the hoops side of things. But the Sooners can offer Young something that Kansas can't: a chance to stay home.
Both of Young's parents have been huge supporters of their son's career and each has played an active role in helping him make his decision.
Therefore, the case for Oklahoma is equally as simple as the case for KU and centers around that very fact: Stay home, elevate OU to new heights while being the unquestioned face of the program, and play in your own back yard where your friends and family can help fill Lloyd Nobel Center each time you play.
Throughout the past several months, Young and his family have been pretty open and honest with their thoughts about the recruiting process and the schools in the mix for Young's services.
But it would be impossible to know exactly what Young is thinking and what factors weigh heaviest in his mind without actually being inside of his head. And so far, Young has maintained a fairly low profile during recent weeks and not tipped his hand one way or the other.
After announcing two weeks ago that Feb. 16 would be "Commitment Day," the time has arrived. TheShiver.com has a countdown clock to Young's announcement on the front page of its site and analysts from Rivals, Scout, 24/7 and more are jockeying for position and spending the day putting out their final predictions on which school Young will pick.
It surfaced earlier this week, just a few hours before the KU-West Virginia game on Big Monday, that Young had made up his mind and was in the process of planning out how to break the news to the coaches involved.

Regardless of what went into his decision or the details about how he broke the news and when, Young will make his announcement just after noon on Thursday, when both he and his parents will finally be able to exhale.
"When Trae was a fifth and sixth grader we talked about, man it would be so cool to have these top coaches come in our house and recruit our son," Ray Young said. "But when it actually starts happening and you go through it for a couple years, you're like, 'Oh my gosh, I'm ready for it to be over with.' It's so overwhelming, but, at the same time, it's a blessing, so I'm not complaining."
A little more than 12 hours from now, it will be over. And the unofficial beginning of Trae Young's college career will be upon us.
Here are a few predictions from around the country: (as of 1:34 p.m. central Wendesday)
• James Hale, OUInsider — Oklahoma
• Brendan Padilla, Baylor247 — Oklahoma
• Alec Kinsky, EYBL Recruiting — Oklahoma
• Chris Hummer, 247Sports — Oklahoma
• Matt Scott, TheShiver.com — Kansas
• Pat Lawless, GiveNGoBasketball.com — Kansas
• Jerry Meyer, 247Sports — Kansas
• Eric Bossi, Rivals.com — Oklahoma
• Krysten Peek, Rivals.com — Oklahoma
• Ethan Moore, Louisville Sports Live — Oklahoma
• Andrew Slater, The Devils Den — Kansas
• Chris Fisher, CatsPause — Kansas
• Shay Wildeboor, JayhawkSlant — Oklahoma
• Kevin Flaherty, 247Sports — Kansas
• Joey Helmer, OU Insider — Oklahoma
• Dain Ervin, BIReports — Oklahoma
• Brian Flinn, Future150 — Oklahoma
• Chad Lykins, The Devils Den — Kansas
• Adam Rowe, The Devils Den — Kansas
• Jason Marcum, A Sea of Blue — Kansas
• Kyle Goblirsch, Gopher247 — Kansas
• Josh Stirn, InsideMDSports — Kansas
• Ryan Noel, TheShiver.com — Kansas
• Dylan Prezkop, NextUpRecruits — Oklahoma
More like this story on KUsports.com