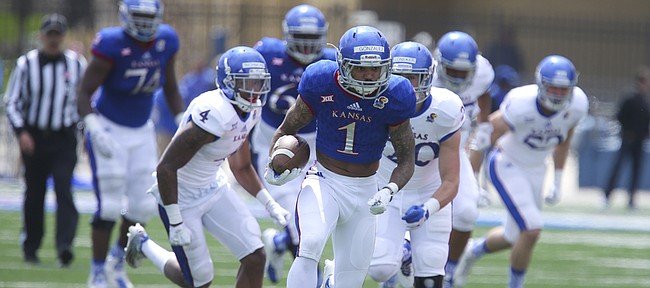 In just a couple of months, fans looking for a sneak peek at David Beaty's third Kansas football team will get their chance when the Jayhawks invite the public into Memorial Stadium for their annual spring game.
KU's 15-practice spring schedule is set to begin in mid-March and the offseason sessions culminate with a showing for the fans, at 1 p.m. on April 15.
It will serve as the first chance for the program's supporters to get good looks at new impact players, such as receiver Daylon Charlot and quarterback Peyton Bender, as well as check in on the various Jayhawks who broke through with strong seasons in 2016, such as receiver Steven Sims Jr., defensive end Dorance Armstrong Jr., defensive tackle Daniel Wise and safety Mike Lee.
KU is scheduled to practice over a five-week span in March and April. Per NCAA rules, as a safety precaution, in two of the practice sessions players will be limited to helmets only. Additionally, in a third session players are only allowed to dress out in helmets and shoulder pads, as they are required to go through an acclimatization period. The remaining 12 practice sessions, players are able to wear full pads and participate in live contact drills for a portion of practice.
More information on the Train Like a Jayhawk Kid's Clinic, and all of the events surrounding the annual spring game, including times, locations and parking information, will be provided at a later date.