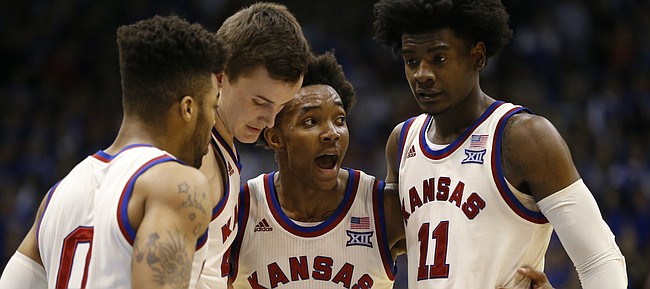 The stat sheet shows that the third-ranked Kansas men's basketball team has outscored opponents 2,171-1,883, but that hardly tells the story of KU's season.
For the sixth game in a row, dating back to Jan. 28 at Kentucky, the Jayhawks found themselves in a dogfight on Monday night, competing tooth and nail with No. 9 West Virginia for an important Big 12 Conference victory.
Thanks to some late heroics, on both offense and defense, Kansas came out on top, 84-80 in overtime, pushing KU's record to 5-1 during the recent six-game stretch of games decided by six points or fewer.
In all, the Jayhawks (23-3 overall, 11-2 Big 12) have played 11 games this season decided by six points or fewer and are 9-2 in those games.
Kansas is 14-1 in games decided by seven points or more but has an average margin of victory of 19.9 points in those 14 victories. That's 6.4 points more than KU's average margin of victory for the entire season, which includes an average win margin of 3.7 points in those other nine games.
Those single-digit margins are a far cry from the numbers that KU fans are used to seeing from this team in Big 12 play throughout the years, and, after Monday's victory over West Virginia, KU coach Bill Self was asked if he would prefer to have a team that blew people out or clawed out close victories.
"I don't know," he said. "I don't know what the formula is.... Since all our games are close, I'll take it that it's really good for us."
Self explained that there are basically two schools of thought when it comes to margin of victory. The first, in which teams blow out opponents night in and night out, often creates an environment where players and coaches are not mentally and physically exhausted from playing in such high-pressure situations on a regular basis. The second, in which games are decided in the final minutes and feature huge momentum swings and clutch plays from both sides, often produces a team that seems more prepared for the rigors of March Madness.
"Some people think, and I've had coaches tell me, the less contested games you have, the fresher your guys are late," Self said. "I've had some people say, didn't Connecticut win five games in the Big East Tournament then go on to win the national championship? So, I'm not sure if there's a formula that's right or wrong."
Regardless of which way they would like this team to win, all that matters to Self and the Jayhawks is that they do win.
"I wouldn't say we stole one," KU freshman Josh Jackson said after the game. "We grinded it out. We did what we needed to do and just won the game."
That matter-of-fact approach to every game, each season, has played a huge role in KU's streak of 12 consecutive Big 12 regular season titles and is largely responsible for putting the Jayhawks on the brink of No. 13.
And even on the heels of a comeback victory for the ages that won't be forgotten any time soon, Self continued to push that message as he team began to look ahead to Saturday's showdown with No. 4 Baylor in Waco, Texas.
"You gotta hold serve at home," he began after Monday's victory. "And all we did tonight, in a very unique way, was do what we were supposed to do.
"We've got an opportunity to put ourselves in a great position going down (to Baylor) if we're successful, but I won't look at it that way. We've got an opportunity to play the fourth-ranked team in the country on the road and get a huge win and really cap off what's been a pretty remarkable last three games. Look at K-State, it was almost a last-possession game. Texas Tech was a last-possession game. (Monday), obviously was a last-possession game. I know our fans think we should play better, but this league is so darn good that there's going to be a lot of games like this. You just have to have tough kids to finish the game."
Jackson tabbed top freshman
KU freshman Josh Jackson for the second time this season was named Wayman Tisdale National Freshman of the Week, KU announced Tuesday.
In his last two games — both KU victories — Jackson is averaged 22.5 points, 11 rebounds, 3.5 assists and 3 steals while shooting .571 from the field.
He snagged double-double Nos. 8 and 9 in victories over Texas Tech and West Virginia, setting a career-high for points, with 31, in the road win at Texas Tech last weekend. Jackson has recorded a double-double in five of KU's last six games.
The freshman from Detroit, who also was named the Tisdale Freshman of the Week on Jan. 17, already has received 16 preseason or in-season honors and appears to be well on his way to more in the coming weeks.