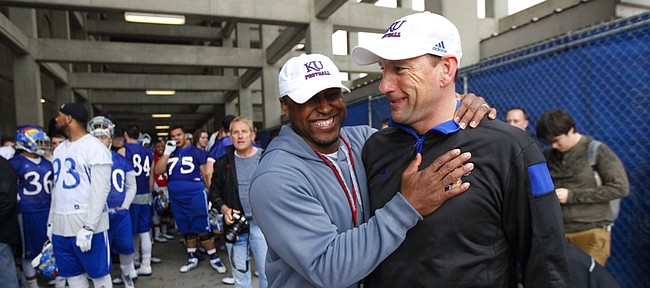 Kansas football coach David Beaty's 2017 coaching staff isn't quite fully assembled after all.
Highly regarded strength and conditioning coach Je'Ney Jackson is leaving the coaching field, according to multiple sources from inside the athletic department, for a job in the medical industry.
The same sources said that Beaty also will make a switch at defensive line coach, where in 2016 Michael Slater was the school's third at that position in three seasons. His successor will be the fourth in four years.
Jackson had been with the Kansas football program as an assistant in the strength department (2005-06) and assistant football coach (2007-09) under Mark Mangino. He then spent a year instructing cornerbacks at Southern Mississippi before leaving to head the strength and conditioning program for Indiana basketball coach Tom Crean's program for four-and-a-half years.
Shortly after being hired to head the Kansas football program, Beaty brought Jackson back to KU and put him in charge of strength and conditioning. Beaty consistently gave Jackson rave reviews for putting in long, productive hours.