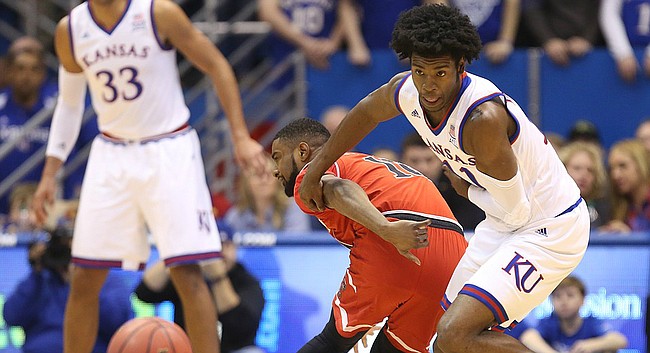 No. 3 Kansas Jayhawks (21-3 overall, 9-2 Big 12) vs. Texas Tech Red Raiders (16-8 overall, 4-7 Big 12)
Time: 1 p.m. | Location: United Supermarkets Arena, Lubbock, Texas
TV: ESPN | Radio: IMG Jayhawk Radio Network
Log on to KUsports.com for our live game blog coverage and follow the KUsports.com staff on Twitter: @KUSports @mctait @TomKeeganLJW @bentonasmith & @nightengalejr
Keys for Kansas
1. Win behind the line
This match-up is a battle of two of the worst 3-point defenses in the Big 12, as Texas Tech ranks eighth while allowing opponents to shoot .366 from 3-point range and Kansas ranks ninth allowing opponents to shoot .368.
The 3-point shot played a big role for both teams in the first meeting and Kansas, though making two fewer shots from behind the arc in that one, ultimately won the battle with a more efficient effort.
KU connected on 9 of 18 3-pointers (.500) in the 85-68 victory at Allen Fieldhouse while allowing the Red Raiders to make 11 of 28 (.393), a few of which came late with the game out of reach.
Devonte' Graham and Frank Mason III combined to go 7-of-12 from 3-point range in the first meeting and, with Josh Jackson having found his stroke (13 of his last 24 from 3) and Svi Mykhailiuk operating as a 3-point assassin of late — Mykhailiuk's has made 19 3-pointers since the Jan. 7 meeting with TTU — the Jayhawks should have plenty of weapons with which to attack the Red Raiders, even if Tech elects to try to eliminate good looks for Mason and Graham.
2. Defensive discipline
Asked what his team was hoping to fine-tune during the final seven games of the regular season, Graham referenced an area the Jayhawks have battled all season — defense.
"Still working on defensive stuff, mainly," Graham said. "We don't really worry about offense. We know we can score. We've just been watching film and (looking for) little things, being in the right spot, little things like that."
Being sound defensively will be key in this one because of the style the Red Raiders use offensively. Not only will Tech's experienced backcourt led by Keenan Evans and Aaron Ross challenge the Jayhawks to stay in front of them, but the Red Raiders also like to drag possessions deep into the shot clock before looking for a spot to attack, which KU coach Bill Self said was a staple of what first-year Tech coach Chris Beard likes to do.
"I think it's pretty much the same team (as the first meeting) on what they're trying to accomplish," Self said. "Run motion and give the defense a chance to break down."
Texas Tech ranks second to Kansas (.495) in the Big 12 in overall field goal percentage at .482.

3. Another step forward for Bragg
Playing in just his second game after serving a three-game suspension for possession of drug paraphernalia, KU sophomore Carlton Bragg Jr., could play a huge role in this one.
With the Red Raiders balanced offensively and loaded with long, athletic players in the starting lineup and off the bench, Bragg, if he's locked in, would provide the Jayhawks with a nice piece to match up with that size and length.
Bragg delivered a mixed-bag performance in the first meeting with Texas Tech, tallying 3 points and 6 rebounds to go along with 3 turnovers and 4 fouls.
Senior forward Landen Lucas, who plays a much different style than Bragg, has logged 30 or more minutes in 6 of 11 games since Jan. 1 and any chance Kansas gets to lighten his load represents good news for this team, both now and in the future.
In his first game back from suspension, Monday night vs. Kansas State, Bragg showed no ill effects of sitting out and contributed six points and three rebounds in 13 minutes. If he's mentally prepared and called upon, he could double those numbers against Tech.
Mega Matchup
Texas Tech forward Anthony Livingston vs. whoever KU puts on him
Texas Tech's 6-foot-8, 220-pound forward has scored in double figures in four consecutive games, including a team-high 14 points in a recent loss at TCU. During that stretch, the senior from Washington D.C., has shot .563 from the field, including a scorching .556 from 3-point range. Therein lies one of this match-up's most intriguing questions for Kansas — which player checks Livingston?
In the first meeting, senior forward Landen Lucas opened on Livingston, but the Tech forward's comfort floating around the 3-point line might not make Lucas the ideal candidate here because guarding Livingston could pull Lucas out of rebounding position.
Josh Jackson has the height but not the bulk to match up and also has been slow at times to close out to 3-point shooters.
That leaves sophomore Carlton Bragg, who guarded Livingston some in the first match-up. Bragg could be in line for more playing time if Livingston, who ranks fifth in the conference in 3-point percentage (.425) and ninth in the Big 12 in 3-pointers made (48), continues to be a factor for the Red Raiders.
In the first meeting with Kansas, Livingston struggled to 6 points, 3 rebounds and 3 turnovers in just 14 minutes.
Jayhawk Pulse
With seven games remaining in the regular season and the Jayhawks owning a one-game lead over Baylor at the top of the Big 12 Conference standings, we're quickly reaching the stretch run in KU's quest to make it 13 Big 12 regular season titles in a row.
That fact alone makes the importance of every game left go up just a tick. But few seem to be quite as important as this one, given the fact that it comes on the road, where life is always tough, and right before a week that very well could decide the Big 12 race.
After facing Tech in Lubbock, Kansas will return home for a Big Monday rematch with West Virginia before traveling to Baylor five days later. Both teams are ranked, both teams played KU tough in the first meeting this season and both will take the floor for those games fully expecting to take down Kansas.
The Jayhawks probably can afford to lose one of the next three games and be OK. But if they were to fall to Tech on the road, the pressure would rise during the next two games, which already will come with a great deal of pressure to begin with.
Probable Starters
No. 3 Kansas
G – Frank Mason III, 5-11, 190, Sr.
G – Devonte' Graham, 6-2, 185, Jr.
G – Josh Jackson, 6-8, 207, Fr.
G – Sviatoslav Mykhailiuk, 6-8, 205, Jr.
F – Landen Lucas, 6-10, 250, Sr.
Texas Tech
G – Devon Thomas, 6-0, 175, Sr.
G – Keenan Evans, 6-3, 185, Jr.
G – Justin Gray, 6-6, 210, Jr.
F – Anthony Livingston, 6-8, 220, Sr.
F – Zach Smith, 6-8, 220, Jr.
More like this story on KUsports.com