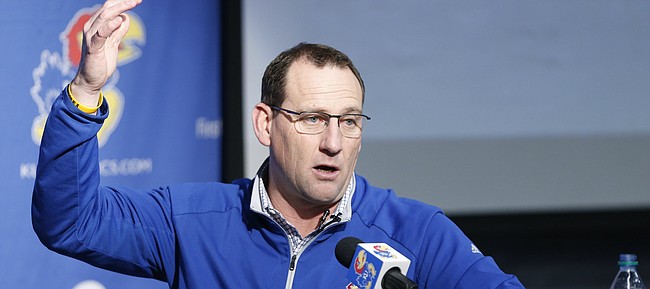 Early in David Beaty's tenure as head football coach at Kansas, athletic director Sheahon Zenger mentioned in passing but with confidence that it had been his experience that it takes until a coach's third year to get his staff just right.
I made a mental note to revisit Zenger on that topic once Beaty entered his third season. Nothing that has happened here has changed Zenger's third staff's the charm stance.
Beaty's entire defensive staff — Clint Bowen (coordinator/safeties), Michael Slater (line), Todd Bradford (linebackers), Kenny Perry (co-coordinator/safeties) — remains intact. Joe DeForest, whose impressive background was a useful resource for the defensive coaches last season, returns as special teams boss. Bradford and DeForest were not on Beaty's first staff.
Thanks in part to a dreadful offense keeping the defense on the field so often, the Kansas D ranked 109th in total yards (456.2) and 113th in points (37.3) among 128 FBS schools.
Those numbers don't sound nearly as bad when compared to the previous season, when KU ranked dead-last at 128th in both scoring (46.1) and total yards (560.8). The defense improved by more than 104.6 yards and 8.8 points per game.
Five starters return on defense.
It was on offense that Beaty needed to shake up his staff. Give him credit for re-assigning the offensive coordinator, himself, to full-time head coach. He also dropped his quarterback duties, giving them to promoted Garrett Riley.
It took Beaty until his third season to get the man he wanted to run his Air Raid offense.
Doug Meacham shared offensive coordinator duties with Sonny Cumbie at TCU and received a share of the credit when the Horned Frogs became the nation's most improved offense and Trevone Boykin grew into one Heisman Trophy candidate. Cumbie turned down job offers after the past couple of seasons and when that happens, that sometimes means he is given more power to stay put. Maybe that's what made the jump to Kansas appealing to Meacham. Whatever the reason, Beaty's happy to have him as part of his third and best staff he's had.
Running backs coach Tony Hull, entering his second season, has done such an impressive job recruiting Louisiana and in helping to set a climate that makes playing college football a positive experience for the players, he received a promotion to associate head coach/running backs and a pay raise from $150,000 to $400,000.
Offensive line coach Zach Yenser is the only member of the offensive staff who has been with Beaty since his first year.
So Zenger's third-year theory is panning out.
"I know in the last 10 to 15 years that I've believed that, just from watching staffs I'd been on and staffs I'd seen as an administrator and enough qualitative observation, that it just kind of rang true to me at the time and still does," Zenger said. "I think it has to do with in your first year, any time you're interviewing a coach you always ask, 'Who are you going to have on your staff?' The wiser coaches will tell you, 'I won't be able to get all of these guys, but in a perfect world I'd like these nine.' Never have I seen anyone get the full nine first-stringers that they want."
Making nine hires at once inevitably leads to bad fits here and there.
"Or maybe an opportunity comes along that was just perfect for someone, so you replace a couple, anywhere from two to four, maybe five," Zenger said. "And it seems like the guys who come in that second year often bring more experience, maybe know more that that's a fit that's better for them. And then you get in the third year and you have less turnover and the turnover there is seems to have more specific needs for the program itself. That's not exact science, it's just my observations over the years. And I'm seeing it happen here."
Fewer hires each year means fewer chances at missing on one.
"I think when a coach has a chance to hire a couple of guys, or three or four, you're more able to focus on what you need and getting the right fit than when you're trying to hire nine," Zenger said.
It won't be easy to keep the staff together and will cost money, but the latter shouldn't be a problem. Big Big 12 TV checks make big salaries for coaches possible.