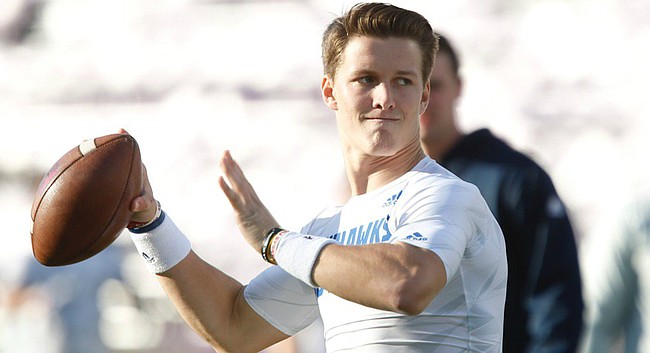 After sitting out and playing only on the scout team during his first year in the University of Kansas football program, quarterback Carter Stanley began his redshirt freshman season this past fall as the odd man out — the third quarterback on a team rotating two others in and out of the lineup.
Stanley could've written a dissertation on patience by the time the QB from Vero Bech, Florida, got a crack at the starting job in November, with just three games remaining in a regular season that seemed to be going nowhere.
In his first start at KU, Stanley didn't throw a touchdown pass against Iowa State, but the team played its first close game in a month. The following week, with Stanley orchestrating a crucial fourth-quarter scoring drive, the Jayhawks upset Texas in overtime, marking the first Big 12 victory for head coach David Beaty and the end to a nine-game losing streak.
However, for Stanley at least, he felt as if he really won over his teammates and coaches in the season finale at Kansas State. The Jayhawks lost, but, unlike in so many of the program's 44 consecutive setbacks away from Lawrence, KU showed the ability to compete in an opponent's stadium. What's more, Stanley threw for 302 yards and two touchdowns, with two interceptions, days after the 6-foot-2 quarterback could — in his words — "barely throw a football."
A secret guarded within Anderson Family Football Complex leading up to the rivalry game, Stanley prepared, and ended up playing, through pain with two banged-up shoulders, including a sprained labrum on his left, non-throwing side. Once he fought through that, Stanley felt as if he finally had established himself as the team's QB.
"I tried to show toughness to the guys," he said this past week, "and I've learned in the past guys on the team, they appreciate that and they support that. I just tried to be the best leader and best motivator that I could be."
Stanley didn't want to show any weakness when his teammates needed him, but his play at K-State left an impression on his head coach, too.
"That kid's a tough sucker, boy," Beaty said of the incumbent starting quarterback. "I'm not gonna say it publicly before we play against a team because they will blitz us every dadgum play and hit him, but the kid could barely lift his arm on Wednesday before we played K-State.
"There was one play in particular in the game where his arm locked on him and he couldn't get the ball out," KU's third-year coach added. "We were tryin' to throw a shallow to (receiver) Steven Sims, and if we can get it to him, he's runnin' for a long time — it was a third-down play. But when (Stanley) ripped his arm up, it locked up on him. He couldn't get it goin'. That's a tough dude. He played, that dude played through a lot of pain, for the last two weeks, and that was very impressive to me and us."
In his three starts, Stanley completed 71 of 124 passes (57.3 percent) for 693 yards, with three touchdowns and four interceptions, while clearly earning the respect of KU's coaches and players. Still, as he moves forward with his offseason work ahead of his sophomore year, a return to the No. 1 spot on the depth chart is far from guaranteed.
One of the most significant additions of the Jayhawks' 2017 recruiting class, former Washington State quarterback Peyton Bender, signed in December and already is on campus this semester. Beaty expects Bender, a junior who starred last season at Itawamba Community College in Mississippi, to challenge Stanley for starting honors.
The experience of the past two seasons and the fashion in which Stanley finished 2016 mean he isn't sweating the arrival of some competition. He and Bender say they hit it off once the juco transfer arrived in Lawrence. Now they're both working toward a common goal while choosing not to say much about the competition to become KU's starting quarterback for 2017.
That's the nature of the beast, after all, for those who touch the ball on every snap and call the quarterback room home. Either someone is trying to take your job or you're trying to snatch it away from someone else.
As for his approach in the months ahead, Stanley said he'll keep competing, just as he did mostly behind the scenes the previous two seasons. One thing he won't do, Stanley added, is change who he is.
His head coach wouldn't expect him to, either.
"And the great thing about Peyton and Carter is those kids are not afraid to compete," Beaty said.