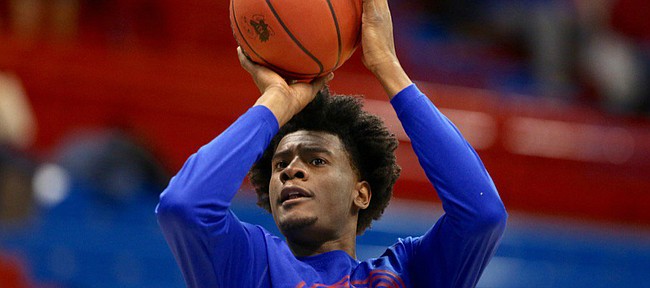 For all of the high-flying dunks, big time passes and huge point totals that have led to six double-doubles, Kansas freshman Josh Jackson still can't get comfortable at the free throw line.
After making 8-of-11 from the free throw line in back-to-back wins over Texas Tech and Oklahoma in early January, Jackson has made just 26-of-62 free throws in the eight games since.
During that same period, Jackson found his stroke elsewhere and watched his 3-point percentage soar from .257 through 16 games to .355 through 24 games, meaning, that in the past eight games, Jackson has shot better from 3-point range (.481) than he has from the free throw line (.419).
That sub-50-percent shooting clip from the charity stripe has plenty of people, including Jackson, concerned about what is ailing him when he steps to the line for what should be easy points. But the preferred approach toward fixing it continues to be to let Jackson sort it out himself.
"That's a more mental thing," said KU assistant Kurtis Townsend while filling in for Bill Self on Tuesday night's Hawk Talk radio show. "He doesn't think about it when he shoots a 3 because it happens so quick. But when they hand him the ball (for a free throw) he's got 10 seconds and who knows what's going through his mind between the time they hand him the ball and he shoots it."
For the season, Jackson is shooting just .543 from the free throw line (69-of-127), but his recent eight-game stretch has been by far his worst and brought his average from .662 through 16 games to its current mark.
Jackson went to the line almost as many times in those last eight games (62) as he did during KU's first 16 games (65), which only emphasizes the importance of Jackson finding comfort and confidence at the free throw line.
While the third-ranked Jayhawks (21-3 overall, 9-2 Big 12) certainly would take a few more free points each game, there are reasons beyond the scoreboard that Jackson and the KU coaching staff would like to see his performance at the line improve in the coming weeks.
"We're not gonna take him out to avoid him getting fouled," Self said after Jackson's 2-of-5 showing at Kansas State on Monday night. "He's gonna have to make 'em because the ball's gonna be in his hands in late-game situations."
To that end, Townsend insists that free throw shooting is not something that Jackson or the rest of the team takes lightly. Not only do the Jayhawks shoot them at the end of every practice, but Townsend also said there is an unspoken expectation that the players shoot free throws on their own free time, as well, be it at the practice gym, inside Allen Fieldhouse or at the smaller gym at McCarthy Hall.
"You know, we've worked with him and he'll make 90 percent in practice, I promise you," Townsend said of Jackson. "And then he gets in the game and he says it's a whole different kind of pressure. So that's kind of mental for him, but it's not because he's not working at it or trying. That's just something that he's gotta figure out."
The whole saga is not unlike one Kansas already went through once this season.
Remember back in November, when the Jayhawks opened the season by hitting just 12-of-52 3-point attempts (.231) in their first three games, leaving people everywhere wondering what was wrong with the Jayhawks' outside shooting?
Each time the Jayhawks were asked, no matter who was being interviewed, the thought that rolled off their tongues sounded something like this: "We'll be fine."
It turns out, they were right. Kansas is currently shooting .417 from 3-point range as a team, a number that balloons to .438 since that rough three-game stretch to open the season.
Whether Jackson's free-throw shooting takes a similar turn remains to be seen. But Townsend and the rest of the Jayhawks are betting on Jackson.
"He's mentally tough enough to overcome something like that," Townsend said. "I think he'll be fine as we go along."
Bragg's ankle OK
During his regular weekly meeting with the media on Thursday, Self said the injured left ankle that momentarily knocked Carlton Bragg Jr. from the Kansas State game on Monday night had not been a problem this week.
"He practiced (Wednesday)," Self said of Bragg, who continued to practice with the team during a recent three-game suspension that was lifted Monday night. "We shot (Wednesday), and then the guys that hadn't played a ton of minutes practiced. So hopefully we've got kind of a combination of having a workout in and keeping guys off their feet for the most part, as well."
Both Self and junior Devonte' Graham said the gap between games — Monday at KSU to Saturday at Texas Tech — had provided the Jayhawks with a good chance to get some rest.
"I think we definitely needed these two days," Graham said.
More on Mason's dive
Also on Thursday, Self was asked one final time for his thoughts on the hustle play by Frank Mason III that took the senior point guard over press row and into a table before he jumped back into the action to pick up a steal late in the KU victory.
"Best play that we've had here in a long time," Self said. "You know, Jamari (Traylor's) play last year (vs. Texas) was an unbelievable play. It ended up being a better play because we scored off of it. Of course, (with) Frank, it would have saved him a lot of fatigue if he would have just deflected it out of bounds. But to see the dive and to see him pop back over the table and then run back in and not know who's he's guarding and find the open man and then go steal the pass and dribble down and dribble it off his leg out of bounds, you know, kind of negated the hustle. But if he'd have finished that play, that would go down as the best hustle play in college basketball this year."