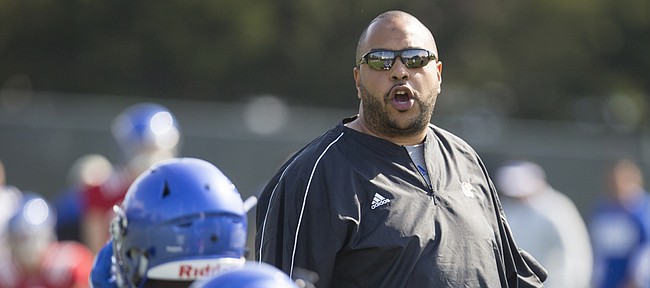 Kansas, of all places, is fast becoming a popular destination for college football prospects from the state of Louisiana.
Kansas?
Yes, Kansas.
Why Kansas?
Naturally, the answer to the question being asked on message boards populated by fan bases of college football programs with long-time winning traditions is linked to outer space.
More specifically, the answer can be traced to a former NASA industrial engineer.
Kansas landing big fish from Louisiana, a fisherman's paradise, is such a departure from the norm in college football recruiting that it only stands to reason the explanation comes from space, the final frontier.
Tony Hull, second-year running backs coach for David Beaty, left the rocket-science industry, where he worked for NASA and Lockheed Martin, to coach football and teach math and physical education in his native New Orleans. He became head football coach at Warren Easton High in 2007, the school's first season post-Hurricane Katrina.
"I loved working for NASA and Lockheed Martin," Hull said during my most recent conversation with him. "They did a great job of creating an environment for innovative thinking and development. The one thing I loved about working for those two companies, they allowed you to think outside the box and not just be cookie-cutter."
It takes thinking outside the box to convince highly recruited football players to sign with a school that hasn't had a winning season since 2008, and in adding Hull to his staff Beaty did that in an effort to add the state of Louisiana to the school's recruiting footprint.
Hull has made it happen.
Four Louisiana natives already dot the KU football roster, including the team's top freshman last season, safety Mike Lee, and the most talented offensive player on the roster, Alabama transfer Daylon Charlot, a receiver and punt returner.
In the past few days, six more football players from the Bayou State made verbal pledges to Kansas, including a pair of the nation's top 60-rated recruits from the Class of 2018, Saturday, a development that sent shock waves throughout the recruiting world. Devonta Jason is the nation's sixth-ranked receiver, Corione Harris the No. 8 cornerback in the junior class.
Typically, Kansas has had a high success rate with recruits once they visit campus, but getting top talent to come to Lawrence to check it out has been a source of frustration.
This staff, particularly with Louisiana recruits, isn't afraid to go head-to-head with national powerhouses and more and more blue-chip prospects are visiting and committing. Now comes the challenge of getting them to stay loyal to KU through the next signing day, in December (if the NCAA council approves recruiting reforms).
Don't count Hull among those at a loss for explaining Lawrence becoming an attractive destination for Louisiana athletes.
Speaking well before this round of verbal commitments took place, Hull said, "Surprised? No, because I was as receptive to Kansas when I came here. I put myself in the shoes of a player, of how I was when I first came to Kansas and I how I viewed it and how I understand it. It's been joyous to see kids from that area come here and see how much they enjoy it."
Hull's work on behalf of the Louisiana recruits once they move to campus extends beyond football tutoring. Whether it's making sure Cajun seafood balls are on the menu at some team dinners, or seeing that Crawfish Etouffee is an option in the dining hall, or helping a player's mother with the details of having her red beans shipped to her son, Hull counts little Louisiana touches such as those as important details.
"The great thing I love about kids from the area I grew up in is we adapt really well to different environments and when you come to an environment where you don't have to worry about being loved and cared for and you don't have to worry about violence and you don't have to worry about things going on, it's an easy adjustment and kids are loving it," Hull said.
Emerging from a tragedy that uprooted so many from New Orleans might have a little to do with that adaptability.
"One thing Katrina taught a lot of people from our area is that there are other places that we can be successful that we hadn't been privileged to see," Hull said. "Once they are able to come out here and experience what the KU community gives, which is love, nurturing, unselfishness, I think a lot of people from that area are drawn to KU because of that."
Clearly, Hull has adapted well since leaving behind the aerospace industry, a slice of the business world he said he thoroughly enjoyed.
"It was my passion for developing kids on and off the field and using football as a tool for doing that," Hull said of his motivation behind a career change. "Football is a means of working with young men and developing them to do great things."
He said that's what makes his job-satisfaction level so high.
"Other than getting a chance to see the smiles on my daughters' faces, there is nothing more rewarding than that," Hull said.