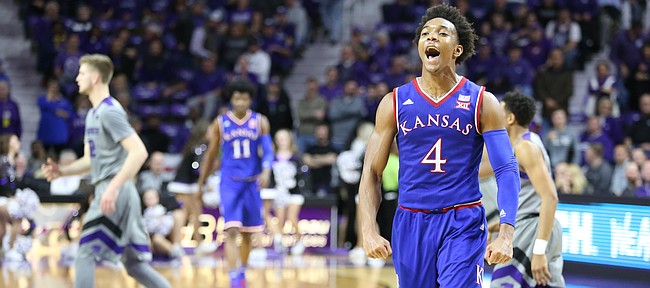 Kansas State's Bramlage Coliseum, known affectionately by locals as The Octagon of Doom, has proven to be a hostile environment for the Kansas men's basketball team during the past couple of decades.
Win or lose, the Jayhawks always have taken the best shot from the K-State fan base inside the building the Wildcats have called home since the 1988-89 season.
And that was exactly the case again on Monday night, when KU improved to 25-4 overall at Bramlage — 6-4 since 2008 — with a 74-71, dogfight victory over Kansas State to improve to 21-3 overall and 9-2 in Big 12 play.
The signs were out, the students were loud and the sounds of "Sandstorm" threatened to melt the faces off of everyone in the building during the frantic final few minutes.
And the Jayhawks loved every minute of it.
"Man, every time I come over here, it's wild," said junior Devonte' Graham, who hit the Wildcats for 10 points, seven rebounds and six assists in 36 minutes in Monday's win. "I love playing here. I think it's right behind (Allen) Fieldhouse as far as energy when we come over here. They've got great fans and it's loud and crazy, but we did a good job of getting the 'W.'"
Kansas basketball coach Bill Self has marveled all season about his team's love of playing on the biggest and brightest stages and its ability to deliver in the toughest environments.
With wins in Madison Square Garden over then-No. 1 Duke, at Iowa State in always-hostile Hilton Coliseum and at Kentucky's rocking Rupp Arena already under their belt heading into Monday's showdown in Manhattan, the third-ranked Jayhawks certainly have provided plenty of evidence to support Self's belief.
And after the game Self offered a glimpse into why this group of veteran Jayhawks has been so successful in that department this season.
"That's all we talked about, use their energy to give you energy," said Self, noting that the K-State crowd actually helped Kansas win Monday's game. "And we even talked about different scenarios and how it was gonna help us. I think their crowd energized our guys. I think they really enjoyed playing here."
Graham agreed and said he appreciated his coach finding a way to inpsire the Jayhawks to turn a potential negative into a positive.
"It's definitely a great thing and I think we do a good job of doing that," said Graham of stealing energy on the road. "Everywhere we go, the crowds are real juiced up and want to see their team beat us so we just try to use that momentum from their crowd and pump it through our bench."
Only when the job was finished, with 0.4 seconds showing on the clock and Kansas leading by three points and in possession of the ball, did the Jayhawks flip the script and start playing antagonist to the crowd that helped fuel their victory.
With his fists in the air and arms flexed above his shoulders, senior guard Frank Mason III placed one finger on his lips and fired the "Shhh" gesture to the crowd.
Asked about the late antics following the game, Mason explained that he got caught up in the adrenaline rush that came from all of the anti-KU roars.
"I just wanted more energy," Mason said. "The last few seconds, I was just trying to get the crowd into it even more."
Kansas is now 6-1 in true road games this season and 10-2 in games played outside of Allen Fieldhouse.
Next up, the Jayhawks travel to Texas Tech on Saturday for a 1 p.m. clash with the Red Raiders in Lubbock, Texas.