Manhattan — Almost every game has a signature play that is remembered as the reason a team won or lost. And for the Kansas men's basketball team, which secured a season sweep over in-state rival Kansas State with a 74-71 victory Monday night at Bramlage Coliseum, that play began with senior guard Frank Mason III on his back.
With Kansas clinging to a 69-65 lead after a pair of free throws from K-State's D.J. Johnson kept the Wildcats alive, Mason came racing down the floor after a Kansas turnover and nearly poked the ball away to give the Jayhawks possession.
Unable to secure the steal, Mason first tried to flip the ball between his legs to a teammate, lost control and went flying by everyone, up and over the first table on press row.
His dive took out two people and three or four chairs. His back hit squarely on the edge of the table on the second row. And for a brief moment, no more than a millisecond, Mason looked like a boxer who had been hit in just the right spot and was lying on the canvas.
Realizing he could not stay down, Mason hopped back up, stomped on the table and slipped back onto the floor just in time to pick off a K-State pass and take it the other way.
"I just had to hurry and get back up so it could be 5-on-5 instead of 4-on-5," recalled Mason, mentioning that he hit his elbow and then apologizing to a reporter who said he took the worst of it.
Photo Gallery
Kansas basketball v. Kansas State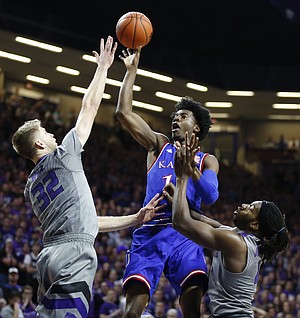 View a gallery of images from Monday night's game between the Jayhawks and Wildcats at Bramlage Coliseum.
Kansas coach Bill Self joked that, from there, Mason blew the easiest basket of the game by dribbling it out of bounds and turning it back over. But Mason's willingness to sacrifice his body at such a key point in the game was big for the Jayhawks, not because of anything that showed up on the scoreboard, but instead because of what it said about this team's willingness to do whatever it takes to win.
"Those plays define seasons," Self said. "I think there's always something that happens in a season that can be a defining moment. I don't know if that's it at all. I'm not saying that. But it's always an extra possession, hustle play."
Although Self was unwilling to predict the future, Mason's teammates were more than happy to describe exactly what they thought about Mason's monster effort.
"So tough," said freshman Josh Jackson, who finished with 18 points. "I've never met a guy as small as him as tough as him. Plays like that really tend to rub off on all of us. We see him make a play like that it really makes everybody step up the intensity."
Added junior guard Devonte' Graham: "That's what wins games. That was a huge play. When he does it, it kind of pumps energy through the team, you know, your best player diving for loose balls and stuff like that. It makes you want to do it.... He's a competitor and he wants to win bad. Plays like that show it."
Of course, so, too, did Mason's game-high 21 points, three assists and two steals in 38 minutes. Five of those points came at the free throw line in the game's final minutes, where Mason helped secure the victory for Kansas (21-3 overall, 9-2 Big 12) in a more tangible way.
When the Jayhawks finally were able to exhale, it was Mason who walked off the floor with his arms flexed and two fists in the air. The only thing that carried more power than that image were the high fives Mason was handing out to teammates in the huddle.
"We haven't lost two in a row since 2013," said Mason, who even posed for a postgame photo with a few K-State fans after the victory. "Not that that matters, but we just wanted to come here and play aggressive and play with a lot of pride and give ourselves the best chance to win."
Podcast episode
Kansas basketball coach Bill Self speaks with the media following the Jayhawks' 74-71 Big Monday victory at Kansas State.
Early on, it did not look as if the Jayhawks would do that. Buoyed by its rocking home crowd, Kansas State (16-8, 5-6) raced out to a 20-8 lead in the first few minutes and forced KU into several mistakes.
Self called timeout following the Wildcats' third transition layup in a four-possession stretch and the Jayhawks responded with a 14-4 run to trim the KSU lead to 24-22 with 7:42 to play in the first half.
That run, which included a 7-0 spurt, featured four points in the paint from sophomore Carlton Bragg Jr., four points from Jackson — two off of a steal and two-handed slam — and 3-pointers from Mason and Svi Mykhailiuk.
KU's ability to find the bottom of the net on offense slowed K-State's offensive attack and allowed the KU defense to get set and grind out stops.
"We were ahead 14 at half the other day, too," said Self, referencing his team's fall-from-in-front loss to Iowa State. "Being down 12 is no way you want to start in an atmosphere like this.... I think our guys relaxed and played after that."
After opening the half shooting 71.4 percent from the floor, the Wildcats finished the half shooting just 13-of-34 from the floor for a mark of 38.2 percent. Kansas, meanwhile, hit 16-of-33 first-half field goals (including 4-of-10 from 3-point range) for 48.5 percent.
A good chunk of those came from Jackson, who led the Jayhawks with 11 points in the first half. Jackson's ability to attack the paint helped Kansas close the half on a 29-15 run to take a 37-35 lead into the locker room.
That run was 29-11 and KU led 37-31 with just over a minute remaining in the first half, but K-State got a big 3-pointer from Kamau Stokes and a free throw from Wesley Iwundu to trim KU's lead to two.
KU opened the second half with a 10-3 run to build a 47-38 lead and trailed just once — 60-59 with 4:42 remaining — the rest of the way.
With KU clinging to a lead that felt equal parts substantial and vulnerable, the Wildcats kept charging and appeared to get stronger and give even more effort as the game wore down.
Mason put the Jayhawks back in front for good with a pair of free throws with 4:21 to play and added a jumper at 3:14 to put Kansas up three. K-State sophomore Dean Wade (20 points, six rebounds, four assists) tied the game 23 seconds later, but Mykhailiuk, the villain of KU's win in Lawrence in the eyes of the K-State crowd, buried a 3-pointer from the corner, right in front of the KSU student section, to give Kansas a 66-63 lead.
That set the stage for Mason's hustle play and for the Jayhawks to ride their diving superstar to another Big 12 road win.
Beyond the obvious reasons of the in-state rivalry and Big Monday audience, Self said Monday's win was big because of the tone it set for the season's final seven games.
"I always think whenever you're coming off a loss, there's a little more pressure to go get one," Self said. "The key to having great seasons is to extend the positive momentum as long as possible, and, the negative momentum, you need to cut it off as short as possible. It's always good to get a win after a loss."
https://www.youtube.com/watch?v=lIjqZgo8hN0
https://www.youtube.com/watch?v=mnFOIiKavR4
https://www.youtube.com/watch?v=1wu-zqoq-u8
— See what people were saying about the game during KUsports.com's live coverage.
---
More news and notes from Kansas vs. Kansas State
---