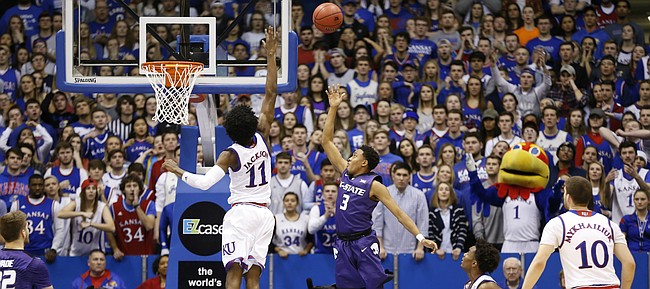 Kansas Jayhawks (20-3 overall, 8-2 Big 12) vs. Kansas State Wildcats (16-7 overall, 5-5 Big 12)
Time: 8 p.m. | Location: Bramlage Coliseum, Manhattan, Kansas
TV: ESPN | Radio: IMG Jayhawk Radio Network
Log on to KUsports.com for our live game blog coverage and follow the KUsports.com staff on Twitter: @KUSports @mctait @TomKeeganLJW @bentonasmith & @nightengalejr
Keys for Kansas
1. Even Superman needed help
Kansas point guard Frank Mason III pushed his Big 12-leading scoring average back up over the 20 points per game mark on Saturday with a 32-point outburst against ISU.
Mason was the only KU player who consistently performed well on the offensive end and KU big man Landen Lucas said the Jayhawks needed to help their point guard out more by running good offense and providing more offensive threats.
The Jayhawks got exactly that in the first meeting with K-State, as five Kansas players reached double figures in scoring and KU shot 53 percent from the field, with 21 assists on 33 field goals.
With a thin bench and key players playing big minutes, it's crucial for Kansas to help lighten the load on Mason's shoulders by bringing two or three other players who can help handle the scoring and carry the offense from time to time.
2. Defend the 3
Kansas out-shot Kansas State 11-7 from behind the 3-point line in the first meeting and limited the Wildcats to decent but not great 33 percent shooting from long range.
While that number surely would be acceptable in this one, look for KU's 3-point defense to take on extra importance given the fact that the Jayhawks are coming off of a game in which they allowed Iowa State to set a school record with 18 3-point makes during Saturday's loss to the Cyclones at Allen Fieldhouse.
A lot of the talk after the loss to ISU was about scouting-report discipline and not losing focus when the shot clock winds down.
That happened to Kansas a couple of times against Iowa State and the Jayhawks paid dearly for it, particularly inside the final minute of overtime when ISU's Donovan Jackson drilled a 3 from the corner to put ISU up four with 28 seconds remaining.
Beyond that, it is imperative that the Jayhawks dig in defensively against K-State's guards, particularly point guard Kamau Stokes, whom Self said last month was "the key" to the Wildcats' team.
Stokes finished with 13 points, 7 assists and 6 rebounds in 37 minutes against Kansas back in January.
3. Slow down DJ
Kansas State forward DJ Johnson, whom Self called one of his favorite players in the Big 12 because of how hard he plays, struggled with foul trouble during the first meeting between these two teams and never really got going.
When Johnson was on the floor, he was an absolute load to handle and nearly impossible to stop.
His size, strength and tenacity while posting up pushed Landen Lucas deep under the basket and gave Johnson easy looks at the rim, which helped the Wildcats nearly complete the comeback.
KU will not be able to afford a similar performance from Johnson in this one, especially if he's able to stay on the floor for more than the 22 minutes he played in the first game.
Look for the Jayhawks to double the post a lot when Johnson catches it and send all five players to the glass to help Lucas rebound against an active K-State front line.
Mega Matchup
KU's Josh Jackson vs. K-State's Dean Wade
After three miserable games against the Jayhawks during his freshman season, Kansas native Dean Wade finally came up big against KU in the first meeting between the two Sunflower State rivals this season.
Wade, a 6-foot-10, 235-pound sophomore from St. John, Kansas, delivered 20 points, 3 rebounds and 2 steals in 34 minutes against the Jayhawks and nearly won the game with a late 3-point try that just missed. Wade shot 50 percent from the floor and was 8-of-9 from the free throw line, as he used his size, athleticism and toughness to give the Jayhawks problems.
Jackson, who touched K-State for 22 points, 9 rebounds and 6 assists in the first meeting, out-did Wade in the individual battle and likely will have to do it again in this one, using his length, quickness and superior athleticism to slow Wade down when K-State is on offense.
Jayhawk Pulse
Nobody has to tell the Jayhawks how big games in Manhattan can be, but the fact that Kansas is entering this year's trip down I-70 on the heels of a heartbreaking home loss over the weekend should only sharpen the Jayhawks' focus.
That only matters so much, though, as plenty of Kansas teams have walked into Bramlage Coliseum focused only to come unraveled when the Wildcats get rolling on the home crowd in the famed "Octagon of Doom" gets things rocking.
In a crazy twist of fate, the Jayhawks actually owe the Wildcats a big thank you entering this one. K-State's victory over Baylor over the weekend helped Kansas maintain sole possession of first place in the Big 12 standings even though the Jayhawks also lost over the weekend.
It's not likely that KU will be in the giving mood in this one so that thank you may have to come at season's end.
Regardless of when, or if, it ever comes, tonight's showdown is a big game for both teams. KU needs the victory to get back on track and maintain its lead in the Big 12 race. The Wildcats, meanwhile, could use another big win to bolster their NCAA Tournament resume.
Those factors and all of the others that go into making this one of the best games of the year, should have Manhattan hopping tonight and present a great test for KU's poise and maturity.
Probable Starters
No. 3 Kansas
G – Frank Mason III, 5-11, 190, Sr.
G – Devonte' Graham, 6-2, 185, Jr.
G – Josh Jackson, 6-8, 207, Fr.
G – Sviatoslav Mykhailiuk, 6-8, 205, Jr.
F – Landen Lucas, 6-10, 250, Sr.
Kansas State
G – Kamau Stokes, 6-0, 165, Soph.
G – Barry Brown, 6-3, 195, Soph.
F – Wesley Iwundu, 6-7, 205, Sr.
F – Dean Wade, 6-10, 235, Soph.
F – D.J. Johnson, 6-9, 237, Sr.