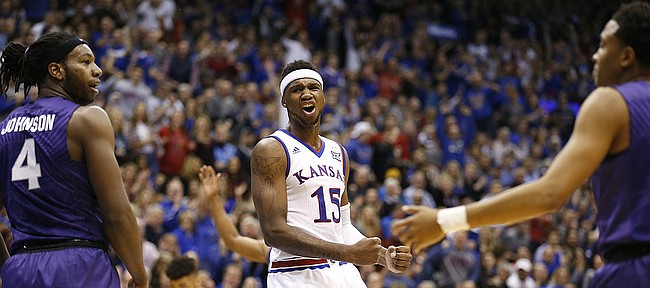 Kansas basketball coach Bill Self on Monday afternoon told the Journal-World that the suspension for sophomore forward Carlton Bragg Jr., had been lifted and that Bragg was eligible to play in the Jayhawks' Big Monday showdown with Kansas State at 8 p.m. on ESPN.
"He'll suit for (the) game," Self said via text message.
Suspended for the second time this season in late January following what Self deemed "a violation of team rules," Bragg later was charged with possession of drug paraphernalia in a case stemming from a rape investigation at the team's on-campus McCarthy Hall dormitory.
The 21-year-old Cleveland native has since been granted a diversion in the drug paraphernalia case.
Bragg missed three games — at Kentucky, vs. Baylor and vs. Iowa State — during his second suspension of the season and has missed four games total this season because of off-the-court issues.
Having played in 19 of KU's 23 games, including five starts, Bragg enters tonight's game averaging 6.1 points and 4.8 rebounds in 15 minutes per game. In the first meeting with the Wildcats on Jan. 3, Bragg played 15 minutes and finished with 7 points on 3-of-5 shooting and 3 rebounds to go along with two turnovers.
His absence has forced freshman Mitch Lightfoot and junior Dwight Coleby in to bigger roles, but neither players has logged more than 10 minutes in any given game during Bragg's absence.
Bragg's presence on the Kansas bench returns much-needed depth to KU's rotation and also gives KU's short-handed front court another long, tall body to support starting senior Landen Lucas, who averaged 33 minutes a game — roughly 10 more than his season average — during Bragg's suspension.