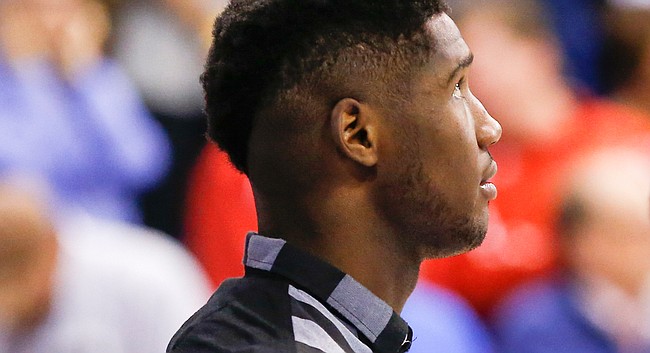 After being suspended three games, University of Kansas men's basketball player Carlton Bragg Jr. was expected to be back in uniform Monday night against Kansas State.
Off court, Bragg's recent drug paraphernalia case appears to be wrapped up.
Bragg was charged Jan. 30 with one count of possession of drug paraphernalia, a misdemeanor, in Lawrence Municipal Court. He was granted a diversion Wednesday. After requesting it from the court Wednesday, the Journal-World was given a copy of the diversion agreement on Monday.
Bragg's six-month diversion agreement says he must not violate any ordinance, statute or resolution, and if he is arrested or convicted of any offense, he must inform the city prosecutor's office. The agreement notes that minor traffic infractions don't count. He also must pay a $300 diversion fee and $63 in court costs by April 28.
In the agreement, Bragg affirmed by initialing that he has never been previously convicted of or participated in a diversion agreement for such an offense.
If Bragg violates the agreement, the city may initiate prosecution on the drug paraphernalia charge, according to the agreement. If he successfully completes the diversion, he may petition for the charge to be expunged after three years.
Supervising city prosecutor Elizabeth Hafoka said Bragg's diversion process was routine.
He submitted his application the day his citation was filed, she said. The court processed it along with other applications pending that day and notified his attorney when it had been approved.
"Diversion applications are processed as they are received," Hafoka said. "There was no rush or delay in the processing of Mr. Bragg's diversion application. We followed our regular procedures."
Bragg, 21, is a sophomore from Cleveland.
Kansas coach Bill Self suspended him Jan. 26 for the second time this season following what the coach deemed "a violation of team rules." Four days later it was revealed that Bragg had been charged with possession of drug paraphernalia in a case stemming from a rape investigation at the team's on-campus apartment building, McCarthy Hall at 1741 Naismith Drive.
Police confiscated two glass smoking devices with residue, according to the corresponding KU police report. That report indicates the possession occurred between Dec. 17 and Dec. 21.
The rape investigation remains open, and police have not released any information on a possible suspect or suspects.
In December, Self also suspended Bragg for one game after Bragg was charged with battery in Douglas County District Court. That charge was dismissed a few days later, and the woman who claimed Bragg struck her was charged with battery instead.
— Reporter Conrad Swanson contributed to this report.
Have a tip or story idea?
---
More stories