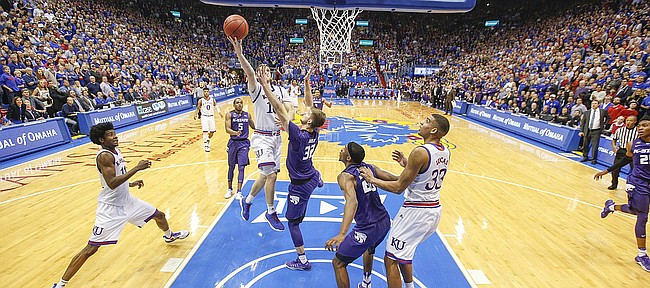 No one was questioning whether the Kansas State Wildcats would be salivating over a shot at revenge against in-state rival Kansas at 8 p.m. tonight in Manhattan.
But then the weekend happened and Kansas State upset No. 2 Baylor on the road while Kansas fell to Iowa State at home, bringing the anticipation for tonight's Big Monday showdown on ESPN to new heights.
The last time these two met, the Jayhawks barely survived when junior guard Sviatoslav Mykhailiuk hit a running layup as time expired after taking what appeared to be more than a few legal steps.
Svi's travel that gave the Jayahwks a 90-88 victory at Allen Fieldhouse became a hot topic on the Internet and sent the Wildcats home stewing.
All of those factors, along with the regular fire that comes with the twice annual Sunflower Showdown, figure to bring tonight's game into a new stratosphere. But Mykhailiuk said after Saturday's loss that he was not worried about anything other than helping the Jayhawks bounce back and get into the win column again.
"We just need to go with the right mind to K-State," Mykhailiuk said. "They're a really good team, capable of beating anyone and it's gonna be really fun."
As for what he expects to hear, see or experience from the always-wild Kansas State student section, Mykhailiuk admitted that he was bracing for the worst but added that he would not let the outside factors become a distraction.
"You know, we will see," he said when asked if he expected any special harassment. "But probably. I really don't know. They (KSU fans) didn't text me. I saw some funny stuff about my travel (on the Internet), but that's it. I'm just trying to stay in my lane and play how I play."
As for the Jayhawks as a whole, there were mixed responses to the question about whether playing just two days after a tough home loss was a good thing for the program.
KU coach Bill Self said he thought the quick turnaround came at a bad time, but mostly because he would always like to get more rest for his thin rotation.
"You can't work (Sunday) when you've got four guys that play over 40 minutes (vs. Iowa State)," Self said following Saturday's game. "We may shoot, we may walk over something, but there's no way you can keep them on their feet. And, if it was a win where everyone played 20 minutes, it would be 45-minute practice. As much as I would like to get us to guard the ball and keep it in front of us, it won't be one of those days."
On the other side of the equation, senior point guard Frank Mason III and a couple of his teammates said they were happy the next game came quickly because they wanted to erase the memories of the Iowa State loss as quickly as possible.
"I think it's a great thing," Mason said of the two-day turnaround. "It gives us a chance to get back and respond to this loss at home and prepare for when it really matters."
Added Mykhailiuk: "It's really tough. They have a really good home-court advantage and they're always pumped up to play against us. We just need to be focused the whole time, the whole game."