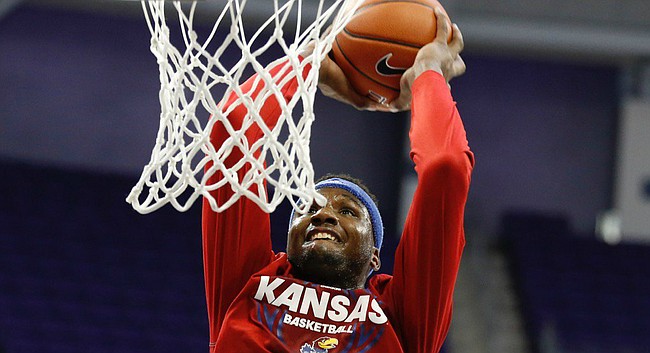 It's too early to know if he'll play, but he is expected to be in the building.
That's the latest on Kansas forward Carlton Bragg Jr., who has been suspended indefinitely since Jan. 26 and has missed the Jayhawks' last three games.
KU coach Bill Self told the Journal-World via text message that Bragg made the trip to Manhattan with the team on Sunday evening but that he had not yet decided if Bragg would play against Kansas State, 8 p.m. Monday on ESPN's Big Monday.
Bragg, a sophomore from Cleveland, was suspended for the second time this season following what Self deemed "a violation of team rules." Four days later it was revealed that Bragg had been charged with possession of drug paraphernalia in a case stemming from a rape investigation at the team's on-campus McCarthy Hall dormitory.
Bragg, 21, has since been granted a diversion in the drug paraphernalia case.
Bragg did not make the trip with the Jayhawks to No. 4 Kentucky and also was absent from Allen Fieldhouse during KU's last two home games, a win over No. 2 Baylor and Saturday's loss to Iowa State.
Self, who also sat Bragg for one game in December for his involvement in a battery case which he later was cleared of any wrongdoing, has said very little about Bragg's status during the past couple of weeks, only confirming that there had been no change in his status.
The Jayhawks (20-3 overall, 8-2 Big 12) and Wildcats (16-7, 5-5) are playing a rematch of their Jan. 3 game at Allen Fieldhouse, which KU won 90-88 when Sviatoslav Mykhailiuk hit a running layup as time expired.
The shot was deemed controversial because Mykhailiuk appeared to travel before releasing the shot.
That memory along with Bragg's status figure to make Monday a wild night in Manhattan.