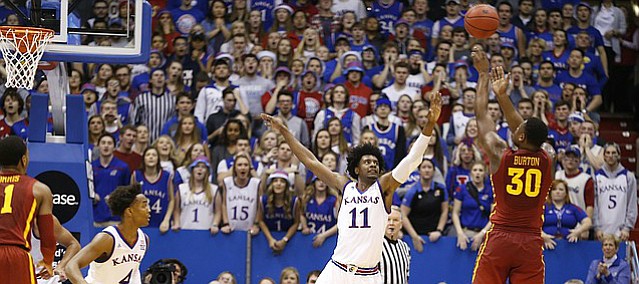 This is how easier-than-most-to-shake upsets happen in basketball: A talented player who doesn't care how many shots in a row he has missed keeps firing without ever looking back, without ever fearing consequences in the event the shots keep clanking off the rim.
Deonte Burton played that role to near perfection Saturday to lift Iowa State to a 92-89, overtime victory over Kansas in Allen Fieldhouse, where the Jayhawks had won 51 in a row.
In his previous three games, Burton had missed each of his 10 3-point attempts and came into the game shooting .305 from long range.
Burton made 7 of 9 3-pointers and totaled 29 points, eight rebounds and six steals.
Photo Gallery
Kansas basketball v. Iowa State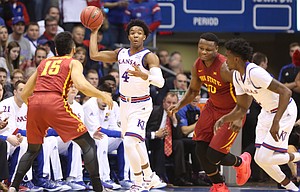 View a photo gallery from Saturday's game between the Kansas Jayhawks and Iowa State Cyclones at Allen Fieldhouse.
In Ames, Burton scored 21 points, but seemed to be doing KU a favor by spending too much time on the perimeter. He made 1 of 6 3-pointers in that one, so the same player who shot the Cylones out of it in Ames shot them to victory in Lawrence.
A case could be made that had Burton, a 6-foot-5, 250-pound leaper built like a defensive end, stayed close to the rim in both games, Iowa State would have won at home and lost on the road. Instead, the reverse happened.
Not that Burton was the only factor, just the X-factor. Kansas turned it over 21 times and Iowa State made 18 of 34 3-pointers on a day their 3-point specialist, Matt Thomas, went 0 for 5 behind the arc.
Burton had made 18 3-pointers all season heading into the game.
Surprised?
"Definitely," Kansas senior guard Frank Mason said. "But when we played them at Ames he shot the ball pretty well but not like that. I knew he could get hot any moment after the first half because he got off to a good start."

For an underdog, the 3-point shot in basketball equates to a puncher's chance in boxing.
"They played with house money today," Kansas coach Bill Self said. "They came in and played with a free mind. We tried to tell our guys they're going to come in and let if fly. That's their chance to make a lot of 3's and we didn't defend it."
Podcast episode
Kansas basketball coach Bill Self met with the media and talked about his team's 92-89, overtime loss against Iowa State, turnovers on offense and the Cyclones' 3-point shooting.
Burton is a better and more thoroughly scouted player than sophomore Marchello Vealy was when he came to Allen Fieldhouse on Nov. 15, 2006, having made 1 of 14 3-point attempts during his career.
He came off the bench, made his first seven 3-pointers, scored 22 points and led ORU to a 78-71 victory.
Saturday's game, the fourth in a killer eight-game stretch of the schedule, wasn't as big a surprise. But Kansas was favored by 10 points, likely the largest point spread during the eight-game stretch.
"We let them get shots up," said Self, after Iowa State became the first school to beat him twice in Allen Fieldhouse. "Some open looks, especially in key moments they got some open looks, but they had to do a good job and knock the shots down and that is what they did. All it took was for them to miss a couple of those, and they didn't. That is what a veteran team like them is supposed to do and props to them for hitting those shots."
The loss didn't hurt Kansas in the Big 12 standings because Kansas State upset Baylor in Waco and Oklahoma State upset West Virginia in Morgantown, but KU failing to win a game it led by 14 points at the half still makes it a bad loss. It further illustrated how the team's lack of depth, absence of a post-up scoring threat and shortage of defensive help for Landen Lucas on the interior translates to closer games than in typical seasons.
Now Kansas must prepare for a Kansas State team coming off a victory at Baylor and a creative K-State student fan base armed with a series of disturbing headlines linked to the Jayhawks off the court. It will take a tougher performance than Kansas was able to muster Saturday to defeat a K-State team that lost in Allen Fieldhouse, 90-88, on Sviatoslav Mykhailiuk's walk-off winner.
— See what people were saying about the game during KUsports.com's live coverage.
---
More news and notes from Kansas vs. Iowa State
---