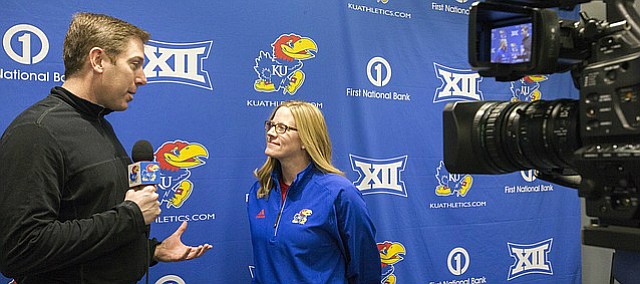 When the Kansas softball team takes the diamond Feb. 10 in Deland, Fla., it will be a much different group than the one that walked off the diamond in May of last year.
Despite several new faces, the Jayhawks still aim to improve on their 31-20 campaign from 2016, which marked the sixth straight season of reaching the 30-win threshold. All while still trying to establish their identity.
"(It's a) totally different roster," Kansas coach Megan Smith said. "We have done lots of scrimmages against each other. Some days our pitching is shutdown and looks awesome and some days are hitters are on it, which is actually a good thing. I don't want to see one area dominate. I think we will have a pretty good balance."
KU will have to overcome losing nearly half of its run production from last year due to graduation. Of the team's 250 runs batted in during the 2016 season, only 129 RBIs — notched by nine different players — return this spring.
The most notable player to replace will be former shortstop Chaley Brickey, who led the program in all-time walks, runs scored and RBIs. Though her glaring absence will be felt on the field, Brickey will still serve as a student assistant on the coaching staff.
Perhaps the biggest burden to replace Brickey will fall on junior Erin McGinley's shoulders. McGinley started in 45 contests last spring, hitting .320 with 19 RBIs and a .370 on-base percentage. However, McGinley understands the importance of not only stepping up in terms of offensive numbers, but as well as being more vocal.
"Last year my sister (Shannon McGinley) and Briana (Evans) in the outfield definitely challenged me to be more of a leader," McGinley said. "Now that they are gone, it's wanting to fill their roles. I want to lead others like they led me. I just want to do what they did and have strong leadership."
The mound is maybe even more murkier.
KU will have a new staff ace after losing Andie Formby, who posted a 2.26 ERA with 113 strikeouts in 149 frames. The team's most experienced arm is sophomore Alexis Reid, who fanned 33 batters in 65 innings of work, while posting a 3.88 ERA.
Reid appeared in eight games, starting in all but two of them to make the All-Big 12 Freshman Team. She had a slower start to her KU career but began to find her groove in league play, where she went 4-1, including Reid's first career victory over the eventual national champion — Oklahoma.
"I'm excited to just hit the dirt and get things going," Reid said. "We are all excited for these changes. We have such good chemistry. It helps for me, having some experience. I know what I'm doing now, so that helps out a lot."
The Jayhawks will certainly have a better understanding of their ball club after the first month. They will compete in four tournaments — three of which are in Florida — in February and the first weekend of March. Kansas actually won't play in Lawrence until Friday, March 10, when the squad takes on Wisconsin-Green Bay.
"I think it's a good thing, a lot of people think the travel is difficult," Smith said. "Here we are used to it. We don't want to play here, it's cold. The girls can have their focus on games and getting better as players."
Kansas will play Akron at 10 a.m. Feb. 10.
More like this story on KUsports.com