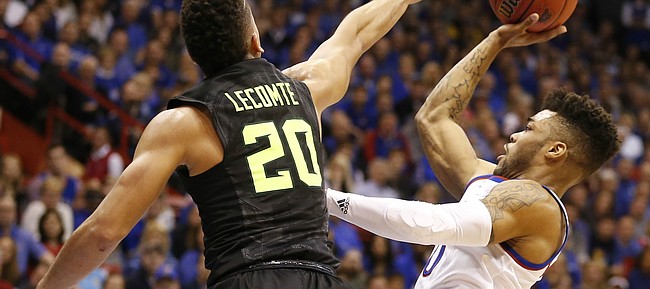 Eleven days ago, in a dimly lit, all-but-empty gymnasium in Morgantown, W.V., where only the custodial crew and a few family members remained, the Kansas men's basketball team slowly filed out to the team bus still trying to digest exactly what went wrong in an 85-69 loss to the Mountaineers.
One day later, after information about a reported rape at their on-campus dormitory surfaced and set the stage for a stretch of the season dominated as much by off-the-court news as what the Jayhawks did on it, the Kansas basketball team was at a crossroads.
Up next were games at No. 4 Kentucky and home against No. 2 Baylor, and although only the Baylor game would have any direct impact on one of the team's biggest goals — winning a 13th straight Big 12 title — the game the Jayhawks were pushing as the least important of the two was getting weeklong hype from ESPN and being viewed nationwide as the potential game of the year in college basketball.
Fast-forward 11 days, where off-the-court questions still linger and nine games remain in the regular season, and the third-ranked Jayhawks sit at 20-2, are poised to move up in the rankings and at least have answered one question during what will go down as their toughest three-game stretch of the 2016-17 season — these guys know how to win.
Asked after Wednesday's solid and stout 73-68 home victory over No. 2 Baylor if his team would have taken a 2-1 record during KU's recent stretch against three of the best teams in college basketball, KU junior Devonté Graham's immediate answer gave away what was coming.
"Definitely," Graham said. "You know, 3-0 would be nice, but you're not gonna win every game, especially in this league. So we'll take that 2-1 and keep rolling with it."
It's not as if things get easy from here. But calling the upcoming schedule easier seems like a fair word to describe what's ahead — Iowa State at home on Saturday, at Kansas State on Monday and at Texas Tech on Feb. 11.
Regardless, Kansas coach Bill Self will continue to push the message that any single win, no matter how big or who it comes against, will not mean anything if the Jayhawks don't take care of business in the next one.
He'll be this way for the rest of the season, and it's that line of thinking that makes the Jayhawks the favorite to snag Big 12 title No. 13 in a row. It's also helped them navigate a nightmare week.
"We've been trying to figure out how tough we are," Graham said. "We've been having a lot going on and stuff like that, but those two wins, especially at Kentucky, I think it just showed how tough we are and how we can grind out games and get Ws."
Self all but agreed. He's always going to demand improvement and seek perfection. But sitting in the media room following Wednesday night's thriller against Baylor, the Kansas coach admitted one thing about his team that he had not said much so far this season.
"Considering a lot of different things, I think our team got better," Self said of the progress made in the last 11 days. "Not only did we win a couple games, I think we got better."