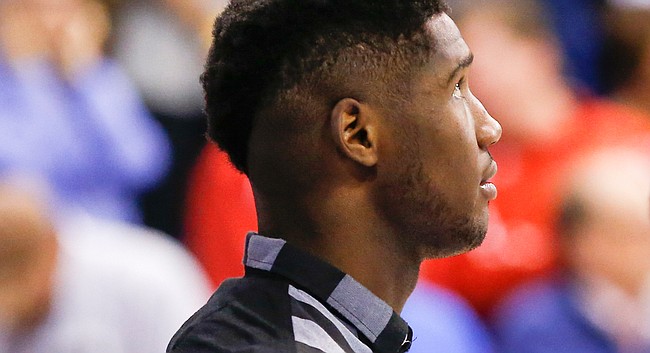 University of Kansas men's basketball player Carlton Bragg is now on diversion in his drug paraphernalia case.
The diversion was granted on Wednesday through Lawrence Municipal Court, according to the court. A charge of possession of drug paraphernalia, a misdemeanor, had been entered against Bragg on Monday.
The city's diversion application lists factors considered for eligibility including the nature of the crime, whether the defendant is a first-time offender and recommendations of law enforcement.
Supervising city prosecutor Elizabeth Hafoka said granting the diversion for Bragg was consistent with those.
"We handled this like any other case," she said. "We looked at our criteria, we reviewed everything and made the decision that it was an appropriate resolution."
If the defendant violates any condition of the diversion agreement, a judge could revoke the diversion and reinstate the charge, Hafoka said.
Conditions of Bragg's agreement were not immediately available.
Possession of drug paraphernalia is punishable by a fine of up to $2,500 and a jail sentence up to one year, according to Lawrence city ordinance.
Bragg, 21, is a sophomore from Cleveland.
KU men's basketball coach Bill Self announced Thursday that Bragg was suspended indefinitely for a violation of team rules. Self said Monday that the suspension would definitely remain in place for Wednesday's home game against Baylor.
On Friday, KU police said one person was facing a drug paraphernalia charge in a case that stemmed from a rape investigation at McCarthy Hall, 1741 Naismith Drive, the on-campus apartment building where KU men's basketball players and other male upperclass or transfer students live. The name of the suspect in the drug paraphernalia case, Bragg, became public Monday.
During the KU police department's investigation of the alleged sexual assault at McCarthy Hall and a subsequent search, drug paraphernalia was found, KU police said. KU Police Chief Chris Keary reiterated this week that there was no indication the drug paraphernalia is related to the sexual assault allegation.
The rape investigation remains open, and police have released no information about a possible suspect.
Have a tip or story idea?
---
More stories