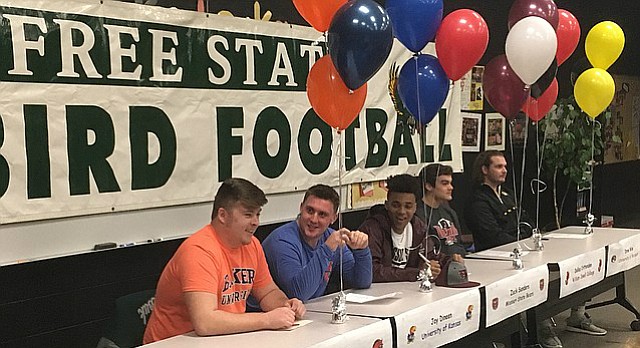 As soon as Free State High senior Jay Dineen woke up Wednesday, he quickly filled out paperwork and sent it to the University of Kansas.
After dreaming of playing for the Jayhawks, it was finally a reality.
Dineen sent in his letter of intent in the morning and celebrated at Free State's signing ceremony after school in the Black Box Theatre. Dineen signed alongside long snapper Drew Wise (Missouri), cornerback Zack Sanders (Missouri State), lineman Chase Houk (Baker) and quarterback Dallas Crittenden (William Jewell).
The 6-foot-2, 235-pound Dineen will join his older brother Joe, at the linebacker position for the Jayhawks. Plus he's in a long tradition of family members to attend Kansas. His mother, Jodi Oelschlager played volleyball at KU, his grandfather Ron Oelschlager was a running back for the Jayhawks and a great-grandfather played basketball under Phog Allen.
Dineen plans on wearing the No. 43 at KU, the same number his grandfather wore at Kansas and it was his dad's number when he played football.
"I think a number means a lot," said Dineen, who broke several school records for tackles. "Joe was No. 29 because of Andre (Maloney). I think your number means something to you so I'm very excited for it."
Dineen committed to the Jayhawks last spring and kept his same enthusiasm throughout the year. He said he frequently texts with other KU recruits in group messages and he met a lot of the out-of-state recruits when they were on their official visits two weeks ago.
"I love this kid, man," Kansas football coach David Beaty said. "What a great, great energy guy. A dude that can really play now. He will knock you out."
At the signing ceremony, more than 100 supporters of the Free State football program — students, teammates, teachers — filled the room with the signees.
Sanders, who set several receiving records at Free State, sent Missouri State his letter of intent around 7 a.m.
"It was really cool knowing this big of a crowd supports all of us and everything," Sanders said. "That's a great feeling."
Wise's recruitment picked up in the last week. He took a visit to Missouri on Saturday and committed the next day as a preferred walk on.
He said he wavered whether he would be able to play Div. I football as a special teams specialist, but he was thrilled to sign with Missouri, only receiving a few friendly jabs in Lawrence.
"My dad kind of grew up not liking Missouri," Wise said, "so it's a little funny that I ended up there."
More like this story on KUsports.com