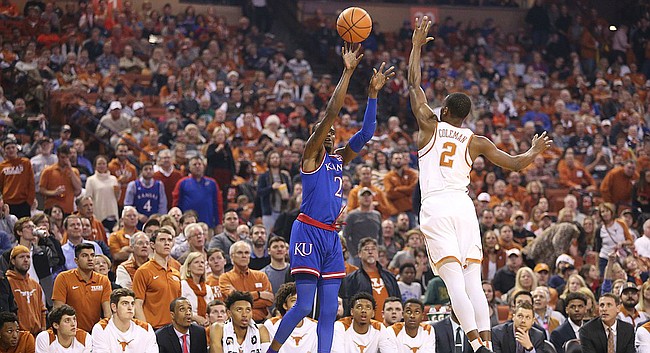 Austin, Texas — Not all of the visitors' best work Friday night took place beyond the 3-point arc on a night Kansas shot 17 of 35 from long distance in a 92-86 victory over Texas. The most spectacular moment of the night for Kansas, courtesy of Lagerald Vick, occurred way above the rim on a second-half play.
Vick soared so high, so quickly on the right side of the lane and with only his right hand threw down a Devonte' Graham lob, a play that would have triggered a sonic boom had it taken place in Allen Fieldhouse.
No matter, Vick has more such plays in store for the home crowd.
His lob finishes represent the loudest of so many ways that Vick demonstrates his high ceiling as a basketball player. So much of the rest of what he does flies under the radar, in part because of how efficiently he moves and shoots and how quickly he makes decisions.
Vick and seniors Devonte' Graham and Svi Mykhailiuk all are developing deserved reputations as big-moment shot-makers.
The veteran trio combined to play 84 of 90 possible minutes against Texas and scored 64 points, providing 70 percent of the team's scoring.
Vick made 5 of 8 3-point attempts and did so many things so well on a night Texas freshman Mohamed Bamba flirted with a triple-double (22 points, 15 rebounds, eight blocked shots) that KU coach Bill Self went out of his way to call attention to Vick's big night.
"Lagerald may have been the best player in the game, besides Bamba," Self said.
Vick played 38 minutes and totaled 21 points, four rebounds and two assists, a line in the box score that is becoming increasingly typical for him.
A 6-foot-5, 175-pound junior from Memphis, Vick ranks third in the Big 12 in 3-point field goal percentage (.491), fourth in scoring (17.4), 11th in rebounding (6.4), 12th in field-goal percentage (.562) and 11th in assists-to-turnovers ratio (2.1).
Two years ago as a freshman who graduated high school a year early to start his college basketball career, Vick played 91 minutes all season. He has grown so much since then that he is building a strong case for first-team all-conference honors, even in such a strong year for the Big 12.
During the five games since Washington gambled that Vick wouldn't be able to beat him from the middle of the zone defense, a winning gamble, the high-flying guard has been an extremely efficient shooter. In that streak, Vick has made 22 of 35 2-point shots and 12 of 21 3-pointers, a blend that results in a rare .714 effective field-goal percentage.
Vick's doing it all for Kansas and his game hasn't finished soaring.