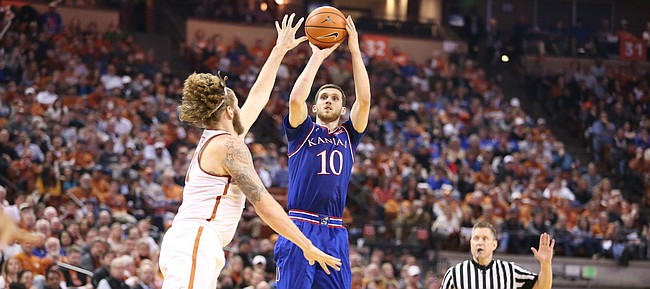 For a head coach and group of players still searching for an identity, simple statistics seem to suggest the Kansas men's basketball may already have one.
The Jayhawks have made 11 or more 3-pointers in eight of the 13 games they have played this season and now are shooting .422 from 3-point range following a 92-86 road win over Texas on Friday night.
The Jayhawks' latest victory featured a whopping 17 3-pointers from a red-hot team that made big shot after big shot to keep Texas at arm's length.
When it was over, senior point guard Devonte' Graham, who made six of those 17 triples and is now shooting 45.4 percent from behind the arc for the season, was asked if the kind of marksmanship the Jayhawks consistently have shown from 3-point range so far this season could, in fact, be this team's identity.
"I mean, it can be," Graham said. "But at the end of the day defense wins championships so we got to still focus in defensively."
Graham's answer fell perfectly in line with what KU coach Bill Self always has said about relying too much on outside shots to win games. But it also showed that Graham was at least willing to consider the current reality, which illustrates clearly that knocking down shots from long distances is what this team does best.
However, because Graham, a career 41.4 percent 3-point shooter, has experienced first-hand those nights when the 3-point shot lets the Jayhawks down, he also knows, identity or not, this group has to do more.
"At one point we were just trading baskets," Graham said. "I know it was pretty fun to watch for you all, but we got to lock in defensively and start getting more stops."
Self, no doubt, would be pleased by those answers. And, more to the point, Self and Graham both know that even if the Jayhawks had still out-shot their season average but knocked in two or three fewer 3-pointers on Friday night, the outcome might have been different.
For a team with such a small margin for error because of so many factors, that part of their reality is unnerving.
"We had some guys play really well individually and we shot the heck out of the ball," Self said. "We needed to though."
For a coach who always would rather see his teams win with defense and by making opponents play bad, Self has come a long way in accepting the increased importance of and reliance on the 3-point shot during recent seasons. That does not mean he fully likes it, but it's clear that he understands that allowing players to do what they do best and are most comfortable doing occasionally can be the better path, whether it leads to an enjoyable walk or not.
"You make 17 threes, I don't know if you call it gritty when you do that," Self lamented. "We didn't rebound very well, we, obviously didn't guard the ball screens well in the first half (and) we did some things not very well, scouting report-wise, but we competed hard."
And maybe that's just it. Maybe competing hard, having pride in the outcome and representing the name on the jersey, while making a boatload of 3-pointers in the process, is all this team needs and will answer Self's questions of, 'Who are we? How do we make people play bad? Are we only going to win when we make shots?"
Friday night in Austin, the answer to that last question was yes. And that was good enough to close 2017 on a high note and move Kansas to 1-0 in Big 12 play for the 27th consecutive season.