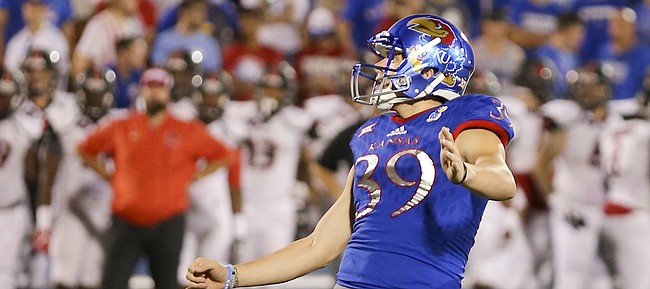 At offseason practices this past March and April, Gabriel Rui didn't have any real competition when it came to kicking field goals and extra points. But that had more to do with the Kansas football roster at that juncture than Rui regularly booting the ball through the uprights.
The preparation for the kicker's second season in the program featured a pattern of inconsistency, if anything. Rui's challenger on the depth chart wouldn't arrive on campus until the summer, and the way things appeared at the time, the newcomer seemed more likely to win the starting job.
Somehow, though, the same specialist who badly missed a 40-yard field goal from the left hash in the KU spring game and sent a 39-yarder from the middle of the field wide right — with no real rush presented by the defense — turned into the program's best placekicker in at least a decade.
"I'm not sure, going into fall camp," KU head coach David Beaty said, "if anybody would have gave him the chance to be the starter, and all he did was keep his head down and just keep working."
KU football field goal success — 2007-2017
2007 — 18-for-26 (69.2%), Scott Webb
2008 — 11-for-14 (78.6%), Jacob Branstetter and Alonso Rojas
2009 — 13-for-19 (68.4%), Branstetter
2010 — 8-for-14 (57.1%), Branstetter
2011 — 6-for-12 (50%), Alex Mueller and Ron Doherty
2012 — 10-for-16 (62.5%), Doherty and Nick Prolago
2013 — 11-for-17 (64.7%), Matthew Wyman and Doherty
2014 — 9-for-15 (60%), Wyman
2015 — 6-for-11 (54.5%), Nick Bartolotta and Wyman
2016 — 13-for-19 (68.4%), Wyman
2017 — 17-for-20 (85%), Gabriel Rui
The labor that eventually transformed the former Northeastern Oklahoma A & M kicker into the Big 12's 2017 leader in field goal accuracy — 17-for-20, 85 percent — began months in advance of that success, when KU assistant strength and conditioning coach Jack Wilson told Rui during the spring semester he needed to lose weight.
The walk-on kicker's response?
"OK. Let's do it," Rui recalled. "And now here I am, and I feel great."
By the time preseason camp and genuine competition for playing time rolled around, the specialist had shed 30 pounds and looked like a different player.
"That helped a lot," Rui said of reshaping his 5-foot-11 frame, "and me just being able to kick the ball better, put more leg through it."
Amid revamping his tools, the kicker from Hinton, Okla., found his mindset shifting for the better, too. He always knew he had the leg to be a reliable scorer on special teams, but improved focus and a take-the-next-kick-like-it's-your-last approach helped him realize his full capability.
Rui felt so confident entering the season he even embraced the idea that KU teammates and coaches who witnessed his previous struggles might be doubting him.
"It just makes you work harder," Rui explained, "when you have someone coming in, you know, who is just as good."
That someone was true freshman Liam Jones. When Jones enrolled at KU in the summer, Rui had someone to push him, and help him validate his skills.
Jones, the young kicker from Choctaw, Okla., had enough power in his left leg to potentially relegate Rui to the spectator role he occupied in 2016 for the Jayhawks. So the enhanced upperclassman responded with zeal and staked his claim to the job before the season began in September.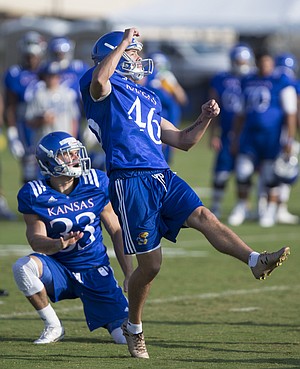 "We love it. There's definitely no hard feelings. People may think we don't like each other," Rui said with a laugh, "but, no, we're really good friends. We support each other. And it definitely pushes us — someone with that good of a leg and accuracy right next to you, kicking right after you or right before you (at practices). You want to match him, obviously, if he makes it. If he misses, you definitely want to make it."
Rui's displays in August practices verified he deserved the job, and Jones' left leg still proved useful on kickoffs, as the freshman sent 17 of his 48 kicks into the end zone for touchbacks. The elder kicker of the two, Rui drilled 10 of his first 11 field goals in the Jayhawks' first eight games and looked the part of a confident power conference placekicker.
"I think there's something to be said for that," Beaty said of Rui's mettle, "for a kicker that runs out there, when he's confident in his abilities and he doesn't get down and he's not afraid to go out there and attack any situation."
The once-doubted kicker, who entered the season listed as a senior, but was granted a redshirt for 2016, and will be back at Kansas in 2018, was perfect on extra points (23-for-23) and field goals between 20 and 29 yards (6-for-6). Rui went 5-for-7 from 30-39 yards, 5-for-6 between 40 and 49 yards and capped his breakout year with a personal-best 50-yarder in KU's season-ending loss at Oklahoma State.
His 17 field goals were the most by a Jayhawk since Scott Webb converted 18 for the 2007 KU team that won the Orange Bowl.
Rui now ranks fifth all-time in KU's record book for field goals in a season, and his 85-percent accuracy made qualified as the second-best single-season mark in program history, behind only Bruce Kallmeyer, who went 12-for-14 (85.7 percent), in 1981.
The first time Rui ran onto the field, in KU's lone 2017 victory over Southeast Missouri State, he admittedly felt "a little shaky," but the overwhelming emotion for him upon winning the right to do so was a sense of satisfaction.
"After that everything was just kicking through some uprights," Rui said. "Just the same thing I do every single day."
For Beaty, who so often cites his desire for players to earn their positions, Rui became an exemplary teammate.
"He has literally worked his way into this," Beaty said. "He really has."
More like this story on KUsports.com