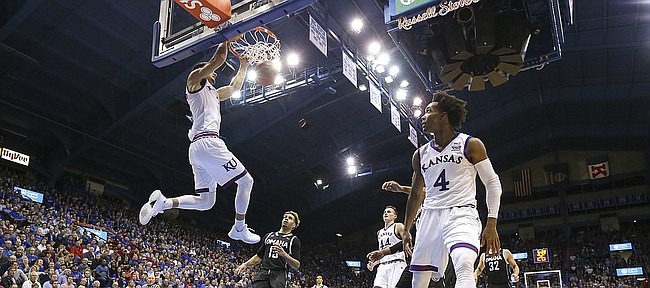 Back-to-back victories over Omaha and Stanford last week led to some upward movement in the Associated Press poll for the Kansas men's basketball team.
After dropping during each of the past two weeks — from No. 2 to No. 13 and then again from No. 13 to No. 14 – the Jayhawks began their climb back up this week, jumping three spots to No. 11 in the latest poll released on Christmas Day.
The top four spots in this week's poll remained unchanged, with Villanova, Michigan State, Arizona State and Duke holding onto their positions.
Future KU foe Texas A&M; started the change after that, jumping from No. 8 to No. 5 and the rest of the poll quickly features a heavy dose of Big 12 Conference flavor, with West Virginia landing at No. 7 (up from No. 10), TCU leaping to 10th (from No. 15) and Oklahoma soaring five spots up to No. 12, giving the Big 12 four teams in this week's Top 12.
Baylor (No. 18) and Texas Tech (No. 22) also remained a part of this week's poll while Texas and Oklahoma State continued to receive votes, making eight of the 10 Big 12 teams a factor in the voting.
All eight of those teams will square off against one another this week, as Big 12 play opens with Kansas heading to Texas for an 8 p.m. tip-off on Friday night to officially begin its quest for a 14th consecutive Big 12 regular season title.
TCU and Oklahoma will meet on Saturday in Fort Worth, Texas, Baylor and Texas Tech play Friday in Lubbock, Texas, and West Virginia travels to Oklahoma State on Friday to kick off its conference schedule.
AP TOP 25, as of Dec. 25, 2017
1 - Villanova (43)
2 - Michigan State (16)
3 - Arizona State (6)
4 - Duke
5 - Texas A&M;
6 - Xavier
7 - West Virginia
8 - Wichita State
9 - Virginia
10 - TCU
11 - Kansas
12 - Oklahoma
13 - North Carolina
14 - Purdue
15 - Miami, Fla.
16 - Kentucky
17 - Arizona
18 - Baylor
19 - Tennessee
20 - Gonzaga
21 - Cincinnati
22 - Texas Tech
23 - Seton Hall
24 - Florida State
25 - Creighton
Others receiving votes: Arkansas 85; Clemson 55; Notre Dame 40; Louisville 26; Texas 21; UCLA 12; Oklahoma State 8; SMU 5; St. Bonaventure 5; Auburn 5; New Mexico State 4; Rhode Island 2; Nevada 1; Stephen F. Austin 1; Florida 1; Michigan 1; Minnesota 1
More like this story on KUsports.com