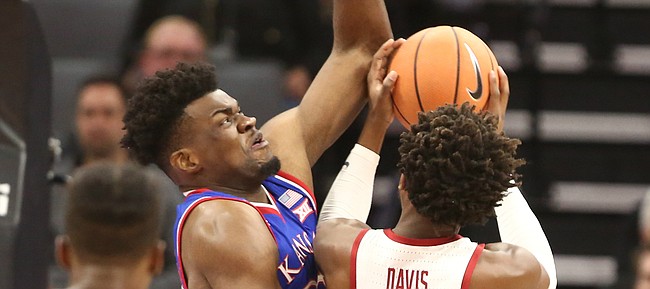 It's often said by Big 12 coaches that toppling Kansas from the throne will require winning in Allen Fieldhouse, a respectful nod to the perennial conference champions' spirited fan base.
What nobody ever seems to point out though is that the Jayhawks seldom are very far from home because their supporters from all over the country follow them wherever they go.
After a workmanlike 75-54 blowout of Stanford in Golden 1 Center, home of the Sacramento Kings, Self marveled at the home-court advantage the Jayhawks had 1,740 miles from Lawrence.
"Unbelievable," Self said on his post-game radio interview with Greg Gurley. "This may be as impressive a Kansas crowd as we've ever had. The lower bowl probably seats, I'm guessing 9,000, and we had about 7,000 fans. It may seat more than that. It may seat 11 (thousand) and we had nine (thousand) … The crowd was great. I couldn't believe the support we had here."
Photo Gallery
Kansas basketball v. Stanford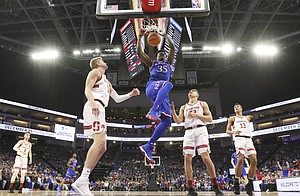 View a gallery of images from Thursday night's game between the Jayhawks and Cardinal in Sacramento, California.
The crowd will help Kansas at home and will help to soften the road challenges throughout Big 12 play, which starts for the Jayhawks on Dec. 29 in Austin.
It's tough to forecast KU's chances of pushing its Big 12 title streak to 14 seasons until a final verdict arrives on potential front-line additions Billy Preston and Silvio De Sousa.
On a night in which Udoka Azubuike again showed his game is improving steadily, his need for help up front also was driven home because it wasn't Mitch Lightfoot's best performance. At this point in his career, Lightfoot turns it over a lot and is not a big scoring threat.
Kansas outscored Stanford by 20 points during Azubuike's 26 minutes on the floor, but had just a one-point advantage in the 14 minutes he sat.
It's not that Azubuike can't play well with four 3-point shooting threats spreading the floor and making it difficult to pay extra attention to the big man. He gets scoring opportunities in part because of that. On many nights, it will remain KU's best lineup. It's just that the drop-off is too severe when he goes to the bench to rest or is forced there by foul trouble.
Plus, there will be games when playing with two big men is the way to go. It also would be nice to have a better free-throw shooter than Azubuike on the floor late in games because his 15-foot shooting mechanics are so flawed that opponents won't even wait until late in games to employ the Hack-A-Dok approach.
Even with such a thin front-line, Kansas made it through an easier-than-usual non-conference schedule with a 10-2 record, thanks to Devonte' Graham thriving at point guard, Lagerald Vick playing such smooth, efficient basketball and Svi Mykhailiuk becoming a far more aggressive offensive player, looking to dunk and to drive to finish with both hands. He went 0 for 5 from 3 and still managed to score 14 points, not a numbers combination he would have produced in younger years.
Kansas has talent, all right, but needs the depth that Preston and De Sousa can bring. Every Big 12 team is significantly better than the Stanford squad KU faced Thursday night. And No. 8 Texas A&M;, which visits Allen Fieldhouse Jan. 27, is the only opponent left from outside the conference.