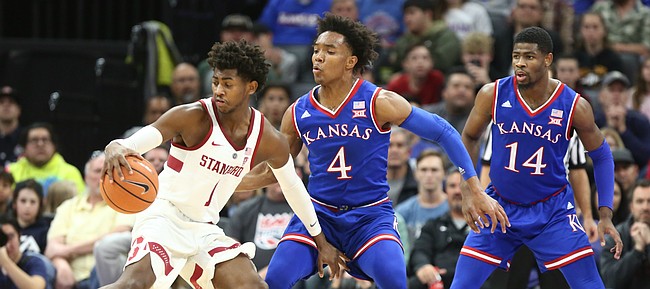 SACRAMENTO — When the 14th-ranked Kansas Jayhawks left California late Thursday night following a 75-54 victory over Stanford at Golden 1 Center — their final game before the start of Big 12 play next week — they did so knowing two things about their immediate future.
First, with Christmas just three days away and school and basketball grinding to a momentary halt, they get the next few days to kick back, relax and celebrate the holiday season with friends and family.
Second, their down time will not last long.
"Back with Coach Sutton, Christmas meant three-a-days," Kansas coach Bill Self said of the uptick in practices over winter break during his coaching days with mentor Eddie Sutton at Oklahoma State. "But the rules have changed so much. With the NCAA now, even during your breaks you have to give them a day off. Things like that we never had before. Now, if you practice an hour and 45 minutes it's like we're totally mistreating our youngsters because they're not getting enough rest. It's just a totally different mindset than what it has been in the past."
That's not to say the mindset around the KU program will not change some during the next week.
Photo Gallery
Kansas basketball v. Stanford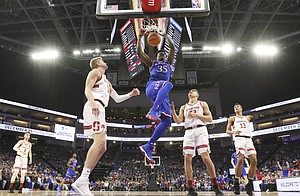 View a gallery of images from Thursday night's game between the Jayhawks and Cardinal in Sacramento, California.
With Big 12 play tipping off next Friday and the Jayhawks still trying to piece together exactly who they are and what their 2017-18 roster looks like, Self made it clear that the days that follow milk and cookies with Santa will be a lot less "It's A Wonderful Life" and a lot more Ebenezer Scrooge for the Jayhawks.
"It won't change until we get back," said Self, who will spend Christmas in Texas with his family, including new granddaughter Ella Jane Browning, before getting back to the grind in Lawrence. "But on the 26th it'll probably change a little bit, because, you know, that's all we have is just ball. We'll watch more tape and probably do some more individual shooting and we'll have to hopefully try to get a couple of guys acclimated in a short amount of time. So, yeah, I think the intensity and stuff will definitely pick up."
Before then, though, the Jayhawks will get to take off their high tops, slap on their Santa hats and have some always-appreciated family fun.
"I think I'm a good Santa. At least I try to be," said KU sophomore Malik Newman, who went home to Mississippi to spend time with his family after Thursday's game.
All but just a few members of the Kansas roster either went directly home following the win over Stanford or had early flights out of Sacramento Friday morning instead of returning to Lawrence. They are expected to report back to Lawrence by Tuesday.
Newman said he was a little behind on his Christmas shopping and added that his old trick of telling his younger family members that he would score a bucket especially for them during one of his games did not have the same affect it once did.
"I tried, but that didn't work," he joked. "They said that wasn't enough. They're kind of expensive this Christmas."
Sublime statistics
KU entered Thursday's clash with Stanford at or near the top of several impressive NCAA statistical categories.
As of Wednesday night, the Jayhawks led the nation in assists per game, at 20.5, and also ranked in the Top 10 nationally in field goal percentage (4th at 52.3), scoring margin (tied for 3rd at +21.9) and assist-to-turnover ratio (4th at 1.7).
In addition, KU was just one of six teams in NCAA Division I to have five players averaging more than 10.7 points per game, joining Arkansas, Duke, TCU, Virginia Tech and William & Mary.
As for individuals, sophomore center Udoka Azubuike entered Thursday leading the nation in field goal percentage at 77.6 percent through the team's first 11 games. Azubuike, who posted back-to-back double-doubles leading up to the Stanford game, made 76 of his first 98 shots from the floor this season, with a huge number of his makes coming on lobs and slam dunks.
History shows that having a Kansas player lead the nation in any one statistic at season's end is rare. Clyde Lovellette led the NCAA in points per game (28.6) during the 1951-52 season and, more recently, Thomas Robinson led the country in double-doubles, with 27, during his stellar junior season in 2011-12.
While Azubuike no doubt would love to finish on top at the end of the current season, he also is chasing the KU record, which is owned by Mark Randall, who shot 64.6 percent from the floor during the 1988-89 season. Landen Lucas' 63.1 percent mark a season ago ranks fourth on KU's all-time list, which requires a minimum of 175 attempts.
Haase happy to see Kansas
While Thursday's game marked the second meeting between Stanford head coach Jerod Haase and the Jayhawks, it was a much different experience than the first, which came last December and featured Haase returning to Allen Fieldhouse for the first time in longer than he could remember.
Stanford lost in Haase's return to the fieldhouse, but neither that nor having to face the Jayhawks on Thursday closer to his current home changed anything about his feelings about KU.
"It always factors in," he said. "That's my alma mater, I played there and I have great feelings about Kansas, and it'll always be close to my heart."
As for why Thursday's game was played at the Sacramento Kings' new home venue instead of on campus in Palo Alto, Haase was not entirely sure, but did not mind the opportunity.
"I don't know all the ins and outs," he said. "The contract was done before I got the job, but I believe there was a mutual feeling of wanting to play at a neutral site and the Kings' arena was the obvious place."
Golden 1 Center marked the third NBA arena the Jayhawks have played in so far this season, joining trips to Chicago's United Center and Miami's American Airlines Arena, where Kansas knocked off Kentucky and Syracuse.
Series history
The Jayhawks exited Thursday's game with a 10-3 edge over the Cardinal in the all-time series.
That includes last year's 89-74 victory in Allen Fieldhouse, which snapped a two-game Stanford winning streak in head-to-head matchups, the most recent being a 60-57 upset of Kansas in the 2014 NCAA Tournament.
The series dates back to 1932 and the Jayhawks won the first four meetings. Another Kansas win in this showdown came during the 2002 NCAA Tournament, when the Jayhawks knocked off Stanford 86-63 in the second round en route to a spot in the Final Four.
The immediate future of the series has at least two more guaranteed matchups. Thursday's game was initially supposed to be the conclusion of a two-game series, but when Stanford hired Haase before the 2016-17 season, the two programs agreed to add a home-and-home series for 2018 and 2019. Stanford will play at KU next December and will host Kansas on Dec. 29, 2019.
Hey, old friend
The Sacramento Kings' off night on Thursday and return home from Wednesday's road victory in Brooklyn allowed former KU point guard Frank Mason III to come catch his old team at his new home.
Mason, who arrived back in Sacramento around 4 a.m. Thursday, was in touch with the KU coaching staff throughout the day and attended the game as a KU fan, sitting on the floor at mid-court across from the Stanford and KU benches.
Mason, who wore all black and bright red kicks, was cheered wildly by KU fans throughout the building as he took his seat about 11 minutes before the starting lineups were introduced.
Clearly aware of Mason's ties to Kansas, the Kings strategically placed several mannequins with No. 10 Mason III jerseys around the concourse to entice all of those crimson-and-blue clad KU fans looking for a last minute holiday gift.