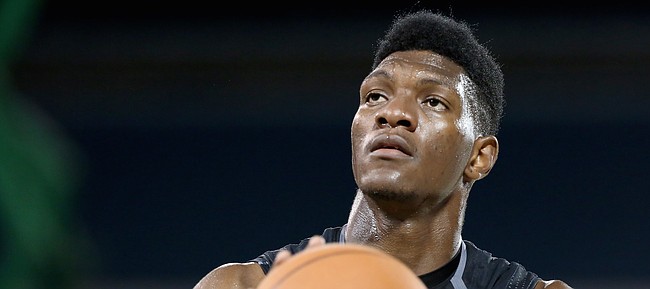 Sacramento – Kansas basketball coach Bill Self moments after Thursday's 75-54 victory over Stanford at Golden 1 Center said there was no change in the status of Class of 2018 big man Silvio De Sousa on Thursday.
However, Self did provide a couple of snippets of new information in the 6-foot-9, 245-pound power forward's quest to join the Jayhawks in time for the upcoming second semester.
"No word," said Self when asked about De Sousa after his postgame press conference. "We know a couple of the grades that were turned in, that were favorable, but we do not know any of the other ones and so there is no word."
Self said he continued to believe the final word about De Sousa's eligibility at Kansas would come Friday — "We think by tomorrow," he said — before adding, "Unless there's some hiccup and then we may have to appeal something, but we feel by tomorrow."
If De Sousa receives the necessary grades from IMG Academy and is deemed eligible to play for the Jayhawks during the second semester, Self said his expectation was that the Angola native would report to KU's campus on Dec. 26, which is the date the rest of the Jayhawks are expected back following a short break to spend Christmas with their families.
"It depends if he qualifies," Self said. "But he would come on the 26th if he qualifies."
As for the other unknown Kansas big man, Self said he continued to believe the final verdict in freshman forward Billy Preston's ongoing compliance saga also remained closer than ever to a resolution.
"The latest on Billy is that still the process is going on but we have been led to believe that it is coming to a head and we hope to know something very soon," Self said.
Preston, like most of the KU team, went directly home to be with family from the Jayhawks' victory over Stanford in Sacramento and Self said he was glad Preston, of all of his players, had one of the shorter trips.
"He needs to see his mom and hang out, so I don't think it's harder (for him to head into break with his status still uncertain)," Self said. "Plus, he's going to L.A. for Christmas, so it's actually good that we were out here and it's an easy trip for him. I think if anything, it'll be good for him to get with his family and get away from it."
Preston has missed all 12 of KU's games this season, the last 11 while KU officials investigate a compliance issue involving the ownership of Preston's vehicle, which was involved in a one-car, non-injury accident in mid-November.