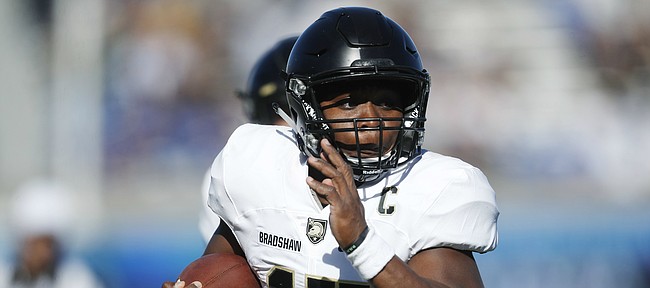 The second time athletic director Sheahon Zenger hired a football coach for Kansas, he challenged himself to think outside the box.
Zenger wondered if the right approach might be to hire someone who would do something radically different from any other Big 12 football coach, so different that he would recruit different types of athletes and wouldn't be going head-to-head on the recruiting trail against schools with far higher standing in the national hierarchy of college football programs.
What, Zenger wondered, would happen if KU had a triple-option coach who runs the football the majority of the time?
The thinking was that Big 12 opponents would have to prepare for something foreign to defensive coordinators throughout the pass-happy conference and KU wouldn't have to stand at the end of the line for recruiting quarterbacks, pass-blockers and receivers.
Triple-option teams can afford to play with smaller slot backs, linemen and quarterbacks — they don't have to see over the linemen if they're running most of the time and on the run when passing.
Zenger identified just the coach who could pull that off, and he and the selection committee secretly interviewed Air Force's Troy Calhoun, a terrific, detail-oriented football coach. Some wondered whether Calhoun's zero-tolerance policy for behavior and academic missteps was a better fit for a military academy than for Kansas, a fair question. Charlie Weis tried a zero-tolerance approach with Turner Gill recruits who were on shaky ground academically and in some cases behaviorally. He dismissed so many players that he fell into the trap of overloading on recruits from junior colleges, a slippery slope that makes regaining footing difficult.
It's questionable whether Calhoun would have come for $800,000, a salary that would have prevented Willie Fritz, the planet's best fit for the Kansas football job, from becoming a candidate. (By the way, Fritz, a Kansas City-area native who rebuilds every program he inherits, is getting a five-year extension from Tulane and just signed five Texas high school players, including a trio of three-star recruits.)
Zenger also was prohibited from pursuing Justin Fuente because then-chancellor Bernadette Gray-Little was not going to approve any coach who had a buyout on his contract. Then at Memphis, Fuente had a $500,000 buyout. It's $15 million at his current school, Virginia Tech.
Anyway, back to Zenger's flirtation with making Kansas a run-first, triple-option football program.
Kansas is the last place among 10 Big 12 schools that a quarterback suited for a spread offense wants to attend, because it's been so long since the Jayhawks have had an offensive line that makes QB a safe position to play. Why is that? Because it's the last place that offensive linemen want to play.
So Kansas ends up recruiting bodies with big frames and quick feet and tries to develop them into gritty football players. The proven blockers already have been scooped up by the time Kansas pores over the leftovers.
The beauty of recruiting for a run-first, triple-option quarterback is that KU could recruit proven tough guys for the offensive line and not worry whether their bodies look like the rest of the blockers in the Big 12. They could take smaller O-linemen and put an emphasis on toughness and quickness, traits that can compensate for lack of the wingspan needed to pass-protect. Pass-happy Big 12 coaches wouldn't be interested in those prospects and KU would compete against military academies for offensive linemen. They can win more of those recruiting battles.
It's not a strategy for building a Big 12 champion, but if executed properly, it would give KU a better shot at reaching the six victories needed to become bowl eligible.
It would take guts to make such a radical move because of all of the criticism that would come from so many corners.
Zenger came close to pulling the triple option, but he found Beaty's potential to recruit Texas prospects too enticing to pass up. KU signed 13 Texas preps in Beaty's first year on the job, then eight, then three last season and just one this week.
The Air Raid offense hasn't worked in large part because of poor blocking. If it doesn't work next year and Kansas is in the market for a new head coach, finding a coach who has had success using the triple-option to upgrade a losing program is a path worth exploring.
More like this story on KUsports.com