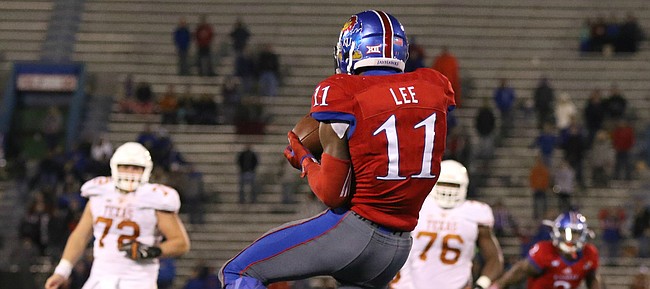 The first Kansas football victory against Texas since 1938 changed the perception of the program in the eyes of many.
Fans and coaches understandably celebrated. The athletic director reached deep into the department's safe. The upset doubled the second-year head coach's victory total and salary and earned him a contract extension.
The 2-10 finish in 2016 gave David Beaty a 2-22 record as head coach of Kansas.
Based on the 1-11 season that followed, the upset on a day that Texas committed six turnovers amounted to a fresh coat of paint disguising rotted wood.
If Kansas had lost that game, Beaty would not have received either a pay raise or extension. He might not have been retained with a 2-34 record — although, if winning were the issue, 3-33 would have given him the boot, too.
In some ways, the opening day of the early signing period Wednesday reminded me of the Texas upset in that the signing of cornerback Corione Harris from Landry-Walker High in Louisiana changed what otherwise would have been a perception of the class that could be summed up in two words: complete desperation.
Top 100 high school prospects simply do not sign with Kansas, just as the Jayhawks don't beat the Longhorns on the football field. So landing such a big fish understandably picked up a lot of spirits. But in 2020 and 2021, when most of the players from this recruiting class are gone, how will history view today?
One day into the three-day signing period, KU's class is made up of nine junior college players, four high school prospects and one graduate transfer. Other than Harris, juco defensive end Azur Kamara appears to be the most heavily recruited player the Jayhawks landed. Linebackers coach Todd Bradford was the lead recruiter for Kamara.
Nobody should have anything against junior college players, as in the people, it's just that most successful programs are built with classes of recruits working side by side for four and five years of bonding. The longer a player is in a program, the more invested in it he grows, the more it means to him, the closer he grows with teammates, the better he understands expectations and teaching methods, and the more solidarity there is within the program. Plus, the more Kansas players, the better, because the Jayhawk mascot has meant a lot to many of them for as long as they can remember.
Clearly, Beaty took a quick-fix approach to this recruiting class, as would any 3-33 coach trying to hang onto his job. Beaty never really has taken the all-out, slow-build high school approach he said he would in recruiting, bringing on 29 transfers in his first three classes and 10-and-counting in this one, but this is his first juco-dominated class.
No telling how many prospects from the Kansas City area and throughout the state of Kansas the Jayhawks might have corralled had they put an emphasis on in-state high school recruiting.
KU did sign one player from a Kansas high school: offensive lineman Mac Copeland, of Wichita; and one from Overland, Mo.: offensive lineman Nick Williams.
Quarterback Jace Ruder, the state's top-ranked prospect, per Rivals, signed with North Carolina. Defensive end Miles Emery, of Blue Valley North, No. 2 in the state, verbally committed to KU, but plans to delay signing a letter until February. Kansas State landed the No. 3 and 4 recruits in the state: defensive tackle Jaylen Pickle, of Cimarron High, and cornerback Ekow Boye-Doe, from Lawrence High. Copeland is ranked No. 5 in the state.
Ronnie Bell, a wide receiver from Park Hill High (Missouri) who in November signed a basketball letter of intent with Missouri State, changed his mind and is bound for Michigan on a football scholarship. He said it was the only football offer he received.
Kansas has four or five more scholarships to use and will continue to evaluate quarterbacks and offensive linemen who would be ready to play right away.
Interestingly, Beaty does not intend to hold an end-of-season press conference, which he used last year to discuss midyear signings.
He probably isn't in the mood to defend recruiting so many players from junior colleges, weeks after using recruiting so many high school payers as a defense for not turning the program around yet.
Sure, it's exciting that Kansas landed the sixth-ranked high school player from the prospect-rich state of Louisiana, even if he was the only one of six verbally committed Louisiana recruits to stay loyal to the Jayhawks.
But one recruit does not a program change anymore than one victory, however thrilling, turns a losing program into a winning one.