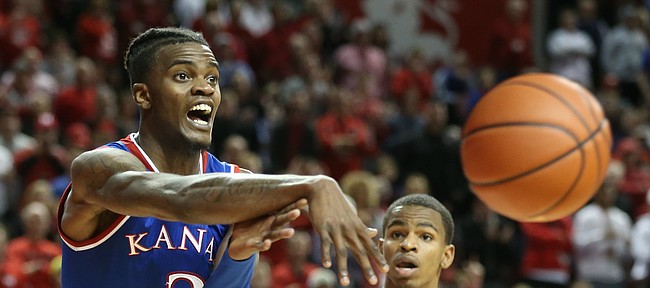 On a relatively slow week for college basketball, the Jayhawks' narrow victory at Nebraska Saturday wasn't enough for Kansas to hold steady in the Associated Press Top 25.
The latest poll, released Monday, dropped KU one spot, from No. 13, down to No. 14.
Kansas (8-2), after winning a non-conference game on the road, 73-72 at Nebraska, got bumped down a spot by rising Virginia (9-1).
The Cavaliers — previously ranked 16th, now at No. 13 — defeated Davidson, 80-60, in their only game this past week. Virginia's lone loss so far this season came at West Virginia, 68-61, earlier in December.
The Mountaineers (9-1) currently rank No. 10 in the poll.
Arizona State (10-0), which won at KU the previous week, moved up again in the rankings, from No. 5 to No. 3.
Wichita State's loss to Oklahoma dropped the Shockers (8-2), previously ranked No. 3, out of the top 10, all the way down to 11th.
OU (8-1), meanwhile, went from unranked to No. 17 with its win in Wichita.
The Big 12 now has six teams in the top 25: No. 10 WVU, No. 14 KU, No. 15 TCU (10-0), No. 17 Oklahoma, No. 18 Baylor (9-2) and No. 21 Texas Tech (9-1).
AP TOP 25 — Dec. 18, 2017
No. 1 — Villanova
No. 2 — Michigan State
No. 3 — Arizona State
No. 4 — Duke
No. 5 — North Carolina
No. 6 — Miami
No. 7 — Kentucky
No. 8 — Texas A & M
No. 9 — Xavier
No. 10 — West Virginia
No. 11 — Wichita State
No. 12 — Gonzaga
No. 13 — Virginia
No. 14 — Kansas
No. 15 — TCU
No. 16 — Purdue
No. 17 — Oklahoma
tied-No. 18 — Baylor
tied-No. 18 — Arizona
No. 20 — Cincinnati
tied-No. 21 — Texas Tech
tied-No. 21 — Tennessee
No. 23 — Seton Hall
No. 24 — Florida State
No. 25 — Creighton
More like this story on KUsports.com