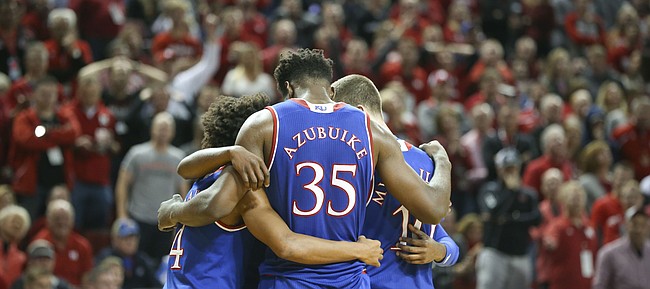 No. 14 Kansas Jayhawks (8-2) vs. Omaha Mavericks (3-10)
Time: 6 p.m. | Location: Allen Fieldhouse, Lawrence, Kansas
TV: ESPN2 | Radio: IMG Jayhawk Radio Network
Log on to KUsports.com for our live game blog coverage and follow the KUsports.com staff on Twitter: @KUSports @mctait @TomKeeganLJW @bentonasmith @nightengalejr @chasenscott & @nickkrug
Keys for Kansas
1. Udoka the dominator
The emphasis in the week leading into the Nebraska game was for sophomore center Udoka Azubuike to get more aggressive in calling for the ball and asserting himself around the rim and for his teammates to be more deliberate in trying to get him the ball.
Both plans worked to the tune of a career-high 26 points and 10 rebounds and Azubuike now is primed to stack another monster game on top of that performance against an Omaha team that is severely limited in terms of size and starts just one player taller than 6-foot-5.
If the 7-foot Nigerian is able to deliver another big game, it would go a long way toward making the mentality of pounding it inside the norm from here on out instead of something of which the Jayhawks have to be reminded.
According to sophomore big man Mitch Lightfoot, Azubuike is capable of delivering the type of game he had Saturday every time he gets the opportunity.
"For sure, for sure," Lightfoot said. "I mean, we see him do it in practice every day. He's just a monster, he's tough to stop and when he's got his mind right, that dude's really good."
2. Get Newman going
Sometimes you have to hit rock bottom to start the climb all the way back up. Maybe that's what Saturday's game was, offensively, for KU sophomore Malik Newman.
The Mississippi State transfer who has underwhelmed in the team's first 10 games, was held scoreless for the first time this season, finishing 0-for-6 from the floor and 0-3 from 3-point range.
He did some other things in other areas to help Kansas win on Saturday and was out there for 31 minutes. But his offensive slump is a real issue right now and KU's next opponent could present the Jayhawks with a prime opportunity to try to focus on getting Newman going.
The 6-foot-3 guard has connected on just nine of his last 32 shot attempts (28 percent, spanning four games) and has the look of a player who wants to get rid of the ball as soon as he gets it.
That's not the kind of dynamic scorer that KU coach Bill Self thought he would have this season when he pegged Newman as an all-Big 12 type of guard during the offseason.
The Jayhawks are going to need Newman to find his scoring touch if they hope to extend their streak of conseuctive Big 12 titles to 14 and he now has just two non-conference games remaining to find his form.

3. Wear 'em out
While Kansas figures to have advantages in size, athleticism and overall talent, the Jayhawks' biggest advantage might come in terms of being the fresher team.
That might sound strange for a team that played just two days earlier, but Omaha actually had a game on Sunday — a 99-58 home victory over Cornell College — and will be playing its third game in six days, compared to just two games in eight days for Kansas.
The Jayhawks may not have a ton of depth or the bodies to keep throwing different waves at Omaha, but if their front-line guys can lock in and get out to a fast start, it could run the Mavericks out of the gym and allow the KU starters to watch a good chunk of this one from the bench.
Mega Matchup
Kansas guards vs. Bill Self's words
After Saturday's victory over Nebraska, another game in which KU senior Devonte' Graham played nearly the entire way, KU coach Bill Self expressed mild disappointment over the fact that the Jayhawks have not had anyone emerge who can give Graham a break from running the point.
"We needed him in the game," Self said of Graham, who now has played all but 48 minutes in the Jayhawks' first 10 games of the season. "We don't have a ball-handler after him as far as anybody who can initiate offense very well."
Self went on to say that junior Lagerald Vick was the next closest thing to being able to do it, but it's not a natural spot for Vick. Malik Newman, Svi Mykhailiuk and even freshman Marcus Garrett have the potential to be able to handle the role, but none have shown any kind of consistency in limited opportunities so far this season.
Newman seems like the most likely candidate and also has received the most opportunities to prove he could do it so far this season. Although he's struggling in a lot of areas at the moment, finding a way to get rolling in one area — 3-point shooting, defense, rebounding, being the second point guard, etc. — could help him get going in other areas, as well.
"We don't have a second point guard," Self reiterated. "Lagerald would be the closest thing we have to a second point guard. That is a concern, but as long as (Graham is) healthy, he can (play big minutes)."
Jayhawk Pulse
While Saturday's win over Nebraska proved to be a huge relief for the Jayhawks, who snapped a two-game losing streak and barely got out alive, it did not exactly cure all that has ailed Bill Self's team of late.
Kansas emerged from that game with many of the same issues it had entering the game, with depth, defense and somebody to give Graham some kind of a breather all still concerns.
After four straight games against Power 5 competition — Syracuse, Washington, Arizona State and Nebraska — the Jayhawks should get a breather against Omaha, both because of the Mavericks' struggles this season and the fact that the game is back at Allen Fieldhouse.
With that said, don't expect Omaha to be intimidated walking into this one. The Mavs have faced some serious competition already this season, with games against Creighton, Oklahoma, Louisville, TCU and Washington all on their schedule.
All five of those games were on the road and Omaha lost each one by an average margin of defeat of 27 points, with the closest being a nine-point loss at Louisville and the worst being a 33-point beating by TCU.
With one final non-conference game remaining after tonight — 10 p.m. Thursday vs. Stanford in Sacramento — and Big 12 play right around the corner, this one could represent the Jayhawks' final opportunity for a true tune-up for the high-stress second half of the season.
Probable Starters
No. 14 Kansas
G – Devonte' Graham, 6-2, 185, Sr.
G – Malik Newman, 6-3, 190, Soph.
G – Svi Mykhailiuk, 6-8, 205, Sr.
G – Lagerald Vick, 6-5, 175, Jr.
C – Udoka Azubuike, 7-0, 280, Soph.
Omaha
G – JT Gibson, 6-3, 195, Soph.
G – Daniel Norl, 6-3, 200, Sr.
G – KJ Robinson, 6-0, 190, Soph.
F – Zach Jackson, 6-5, 185, Jr.
F – Lamar Wofford-Humphrey, 6-9, 225, Sr.