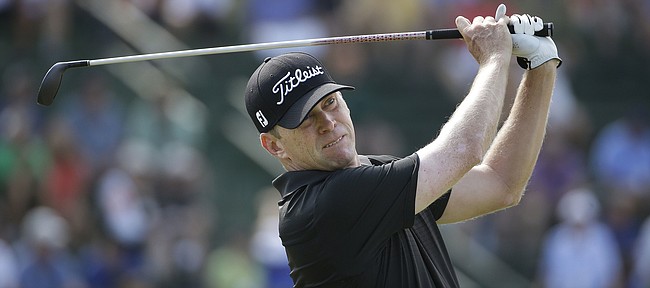 It started as the Ben Hogan Tour, became the Nike Tour, then the Buy.com Tour, then the Nationwide Tour and since June of 2012 has been called the Web.com Tour.
It's the equivalent of the Triple-A baseball, the highest stepping stone that leads to the PGA Tour.
Qualifying for the Web.com tour requires advancing through three stages of four-day tournaments that make up what is known as Q school.
The top 45 from the final stage make it to the Web.com Tour and then the top 25 finishers in the regular-season standings, plus the top 25 in the four-tournament playoffs advance to the PGA Tour.
One bad day in one of the stages of qualifying — even one bad shot — can mean one of the world's best golfers must wait another year for yet another shot at a set schedule.
Few know that better than Chris Thompson, a two-time All-American during his days playing for the late Ross Randall at Kansas.
Thompson, 41, made it through Q school once, in 2006, to play on the 2007 Nationwide Tour. He didn't win enough money to retain his card and went back to Q school 10 years in a row without earning exempt status. He came so close, so many times, and more than once was done in by not playing well on the fourth day of the final stage.
Not this time. Eleven years after his first Q school survival, Thompson finished tied for 16th Sunday, earning exempt status for the first eight tournaments of the Web.com tour. By the end of that eight-tournament, five-country stretch, he likely will have made enough money to qualify for the full 27-tournament schedule, the final 22 played in the United States.
That would mean a year without the dreaded Monday qualifiers, one-day shots at earning entry into Web.com and PGA Tour events.
Earning a spot in a tournament via that path requires getting really hot for a day. It also means long drives and expensive flights.
Now Thompson doesn't have to worry about the Monday qualifiers and can plan his trips based on the already-set schedule.
It starts in mid-January with tournaments in the Bahamas on consecutive weeks, then Panama, then Colombia, then three weeks off, then Mexico, then Louisiana, then Georgia, then Mississippi.
Thompson's phone blew up Sunday after he finished 3-under-par for a four-day total of 17-under in the final stage, played at two courses in Chandler, Ariz. Friends from all over Lawrence and wherever else his college buddies are living these days had been tracking his progress hole-by-hole on PGAtour.com. Instead of feeling for him from a distance as in past years, they punched the air and then punched congratulatory texts onto their phones.
By the final stage, the field is so competitive that bad rounds aren't an option. Thompson was under par all four days, didn't card a single double-bogey, and finished strong. How strong?
In the final two rounds, Thompson never had a birdie-free stretch of longer than three holes. Over the four rounds, he carded 45 pars, 22 birdies and five bogeys.
Thompson made bogey on the 16th hole Sunday, dropping him to 16-under, and 14-under was the score needed to get his card.
Greg LaBelle, who has worked for world-famous swing coach Butch Harmon for 20 years, has been Thompson's swing instructor for the past five years. He doubled as his caddie in Chandler.
"There were leaderboards out there and after his bogey on 16, I don't know if Chris looked, but I looked," LaBelle said. "A lot of guys might have thought about if they finished bogey, double-bogey, they wouldn't make it. Or, you might think if I finish birdie, birdie, you can finish top 10 and that would mean you're exempt for the first 12 tournaments. Chris tried to birdie the last two holes."
Thompson birdied the par-5 17th and headed to No. 18, a par 4.
"He bombed one right down the pike on 18," LaBelle said. "Good moment for him. He didn't make the birdie, but he gave himself a good shot at it."
Thompson said he putted great in the second stage of qualifying in Dallas, but didn't drop nearly as many in Arizona.
Just as importantly, though, he said he didn't miss putts inside 4 feet. Not blowing any short ones kept his feet where they belong, which is to say not being used to kick himself, and his eyes where they needed to be, trained on the next shot.
"Certainly, at my age I feel nerves more than I had in the past, but typically if I'm playing well I don't get nearly as nervous as when I'm not playing well," Thompson said. "My swing felt pretty good and for some reason, I never get nervous hitting drives. It's my favorite club to hit. If I was going down, I was going down with my driver. I kept hitting it well."
Thompson said that LaBelle recognized some issues with his posture in the days leading up to the final stage, corrected them on the range, and from there did a strong job of helping him to read putts.
Thompson's an extremely bright guy, which for an athlete can be a blessing, unless and until it becomes curse. Some bright athletes overthink things. Bright athletes with wisdom know enough to keep it simple. Thompson falls into the latter category. He took the posture tweaks into the tournament with him and is looking forward to a rare summer with a predictable schedule that includes stress-free Mondays.
We'll never know, but LaBelle's call to volunteer to make the four-hour drive from his Las Vegas home to work with him on the range in the days leading up the tournament, then carry his bag and read his putts for four days, just might have made the difference.
Why did LaBelle make that call?
"Well, you know, Chris has become one of my good friends," LaBelle said. "Even though I'm his coach, there's a good friendship there."
Thompson and LaBelle stayed at the home of Jim Clement, a former Lawrence Country Club member now living in the Phoenix area. Thompson, LaBelle and Clement stayed loose swapping stories and sharing memories of late friend Dr. Tom Rainbolt, a Lawrence dentist and golf fanatic, who didn't have Thompson's gift of keeping it simple and not falling into constant technical tinkering with his golf swing, but had a calming effect everyone in his presence. Who knows? Just reliving memories of a friend like that could have had a positive impact on Thompson's performance as well.
In the end, one man ultimately was responsible for the feat: the man who persevered and didn't let all those years of near misses make him seek a less stressful way to make a living.