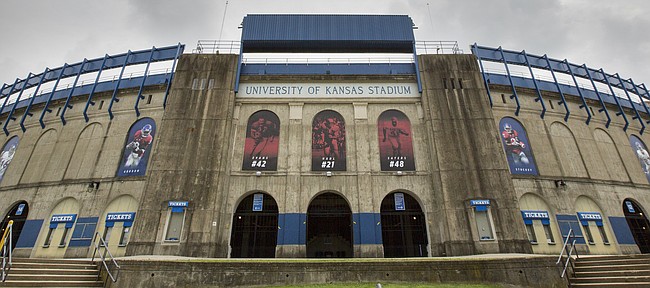 A neighborhood group will be formed to provide input on the design of the new indoor practice facility for the University of Kansas football team.
In addition to appointing an official building committee, the university will appoint an ad hoc community advisory committee to provide architects with input about the facility's design, according to a letter from KU Provost Neeli Bendapudi to City Manager Tom Markus.
The letter states that the university is considering a number of sites around KU's Memorial Stadium and that the final location will "most likely be" the west side of the stadium.
Last month, the Kansas Board of Regents gave the university authority to build the $26 million indoor practice facility. The stadium is on the northern edge of KU's campus and bordered by the Oread and West Hills neighborhoods.
The letter asks for representation from the city and neighborhood on the community advisory committee. In addition to providing input on the facility's design, the letter states that the committee will also make recommendations about how to address the interests of the community during the project's construction.
A tentative timeline for the project was also included in the letter, and is as follows:
December 2017: Appoint the community advisory committee
January 2017-February 2018: Design development and refinement
March 2018: Completion of design development
February 2018: Early construction package released
December 2018: complete/occupancy
The letter is being provided to city commissioners as part of the agenda for their meeting Tuesday.