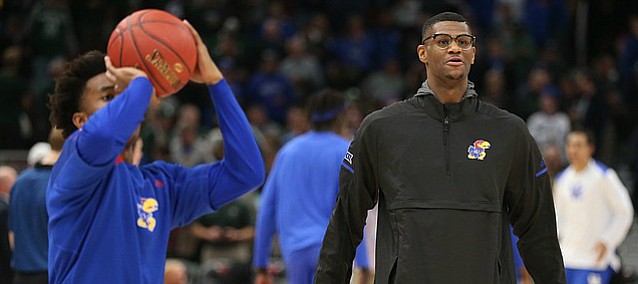 In what has become fairly routine for the Kansas basketball program during the past month, KU coach Bill Self on Monday offered up the latest on the status of withheld freshman forward Billy Preston, and used the words "relatively near future" in doing so.
However, even with hints about a potential outcome coming from second-ranked KU's leader, Self said he did not expect to know anything before Wednesday's game against Washington at Sprint Center in Kansas City, Mo.
"This is something that our people have worked really hard on," Self said Monday. "We think it'll come to a head soon and hopefully it'll come to a head in a way that we held him out for precautionary reasons. But we just don't know right now.
"The way the system is set up, and the way that we're attacking this — and, when I say attacking, I mean that in the literal sense; we are trying to resolve this as quickly as possible — it's just not going to be something that happens as quick as we want it to happen," Self said. "We're very hopeful that we are nearing the conclusion, to the point where maybe we can find something out in the relatively near future. But I don't think that's going to happen by Wednesday."
Preston, the 6-foot-10, 240-pound McDonald's All-American who was labeled by some as the key to KU's season before the 2017-18 campaign kicked off, continues to be held out of competition while KU sorts out a compliance issue involving a vehicle he was driving during a single-car, noninjury accident on Nov. 11.
Tuesday marks three weeks since KU first held Preston out because of the issue — he also missed the season opener on Nov. 10 after missing curfew and class — and the whole situation, though very different in its specifics, has a similar feel to KU's recent efforts to clear up situations that kept Cheick Diallo and Cliff Alexander out of competition and, going back farther, Darnell Jackson and Josh Selby before them.
"I don't think that I've ever had a situation where I've dealt with this like I have since we've been here," Self said. "And it has nothing to do with Kansas. It has everything to do with the system.
"Twenty years ago, every athletic department had one compliance person and that one compliance person was responsible for everything going on in that athletic department. Now, you have five to seven and the mandate of the NCAA is, 'We want to monitor all these things,' so I don't know that it's a lot different (than it was 20 years ago), I just know there's more things that have become known now than what there was before, in large part because you have the manpower to look into them."
While each of those previous instances led to a variety of outcomes — Diallo was eventually cleared academically after missing a few games; Selby and Jackson each missed about a semester's worth of games; and Alexander missed the final eight games his lone season — KU's athletic department put a lot of time, money and resources into each situation and also has done so with Preston.
The freshman forward continues to practice with the team and even works through pregame warmups on game nights. But the longer the situation has lingered, the more Self has seen it get to Preston, who missed last weekend's trip to Miami to spend time with his mother, who visited him in Lawrence.

"I don't think he's doing great," Self said. "I think it would be surprising if anybody was doing great when you're in limbo like this."