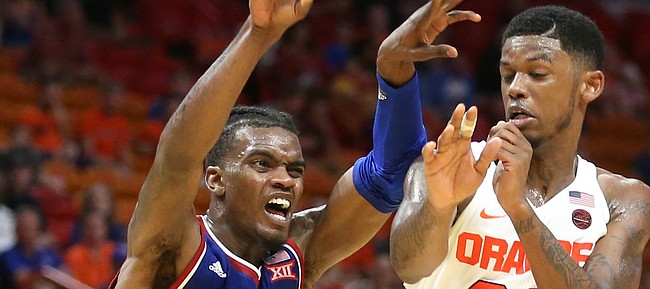 Miami — If the Big 12 had a most improved basketball player award, Kansas junior Lagerald Vick would be nominated for the second consecutive year.
Vick is a throwback basketball player in more than one regard. His steady improvement from benchwarmer to key reserve once was a common story in college basketball, before the days of one-and-done players and one-and-done wannabes.
Vick is neither. He's a constantly evolving basketball talent with an ever-expanding skill set and a growing confidence, blessed with an ultra-quick first step, an even quicker second jump, a tight handle and a soft shooting touch.
He's a throwback in another way. Whereas the modern player tends to want to do all of his scoring shooting 3-pointers or dunking — two things Vick does very, very well, especially the latter — the 6-foot-5, 175-pound Memphian is developing a handy mid-range game.

That area between the 3-point semicircle and the rim — in Vick's case, way above the rim — is where he spent most of his time at American Airlines Arena vs. the Orange.
Operating Kansas' offense from the high post against Syracuse's 2-3 zone, Vick showed the vision and decision-making of a point guard, a nod to his wide array of skills considering that in the same game, he soared higher than any teammate ever could in throwing down a high lob from Devonté Graham with his left hand.
He's well-suited for the role of having the ball in his hands in the middle of the zone. Play too close to him, and he'll drive around you and pull up for a one-handed shot. Play off of him, and he'll hit the mid-range jumper. Leave a man open, and he'll find him.
The best way to illustrate Vick's versatility lies not in saying what he does well, but rather in asking what he doesn't do well as a basketball player.
The answer: Nothing. Sure, he could and will put on weight, but that doesn't prevent him from rebounding and scoring close to the basket. He sometimes has a momentary lapse in concentration, which results in him arriving a step late in running at a 3-point shooter. But he has the desire and speed to correct that.
He stuffs the box score as impressively as the basketball. Vick ranks sixth in the big 12 with 16.4 points per game, tied for eighth in rebounding (7.0), 11th in field-goal percentage (.542), seventh in assists (4.3) and 3-point percentage (.469), eighth in assists-to-turnover ratio (2.7) and fifth in minutes (32.7). Those numbers all speak to what he does for the team.
As for individual competition, think he might do OK in a slam-dunk contest?
More like this story on KUsports.com