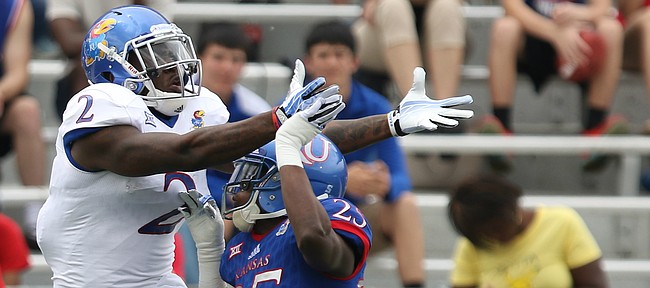 When the Kansas football team published its first depth chart of the season this week, no revelation on the 2-deep resonated quite like former Alabama wide receiver Daylon Charlot's presence on the second string.
What's more, Charlot, a four-star recruit during his prep days in Patterson, La., was listed by his coaches as an either/or option, with sophomore Evan Fairs.
Four days ahead of sophomore Charlot's long-anticipated KU debut, head coach David Beaty said "production" at practices has kept the touted wideout from reaching his potential.
"Some of it's been availability, being able to be on the field," revealed Beaty, who has said he no longer will give many specifics on his players' injuries. "And when he's not on the field, whether it be an injury or anything else that might keep him off the field. He's battled some things throughout fall camp, which has kind of, you know, his availability hurts him a little bit in that regard."
First-year KU offensive coordinator Doug Meacham, too, hinted recently that Charlot, expected since his arrival as a transfer a year ago to become a much-needed complement to junior receiver Steven Sims Jr., might not have been playing on a first-string level in preseason sessions.
"He's got a great skill set. He's a strong player. I think we just need to see him play beyond two plays," Meacham said, with a chuckle. "You know, at times he'll go a couple, he'll make something really good happen, and two or three plays into it, he just kind of disappears a little bit. I don't know if it's the conditioning or we've just still got to work with him to fight and give six, seven straight reps. But he'll make a 'wow' play and then kind of dissolves a little bit, I think, because of fatigue or whatever."
As far as Charlot is concerned, his current spot among the second-stringers isn't an issue in the days leading up to Saturday's season-opener versus Southeast Missouri State (6 p.m. kickoff, Memorial Stadium).
"I use it as a motivator, but, I mean, we're still battling, fighting for positions and this and that," Charlot said. "Come game day, we'll all find out who the starter is. Right now, I'm just focused on winning games."
The depth chart listed frontline receivers as juniors Sims, Jeremiah Booker, Kerr Johnson Jr. and Ryan Schadler, with potential second-string options as Charlot, Fairs, sophomore Chase Harrell, freshman Quan Hampton and junior Tyler Patrick.
KU's third-year coach referenced the silver lining of the situation from his perspective.
"We've got great competition out there. That's one thing. When you've got Daylon Charlot not listed as a one right now, and at the two or the three, that's telling you you've improved a little bit, because I think Daylon's a talented guy," Beaty said. "He'll definitely play Saturday — there's no doubt about it. I don't know who will run out there first. It might just depend on what package we're in. We've got so many different guys right now who we think can contribute, it gives you a little bit of an advantage because you might be able to package them."
Charlot's position coach, Meacham, described the impact transfer as a "work in progress" at this juncture.
"But he does make some good catches and some good plays at times," KU's offensive coordinator conceded.
Whether Charlot's Jayhawk debut comes as a starter or a reserve, the confident wideout wants to make significant contributions against SEMO.
"Whatever comes comes, but I know what I need to do to help my team out and help them win," Charlot said. "Hopefully Saturday will be a great game for me."