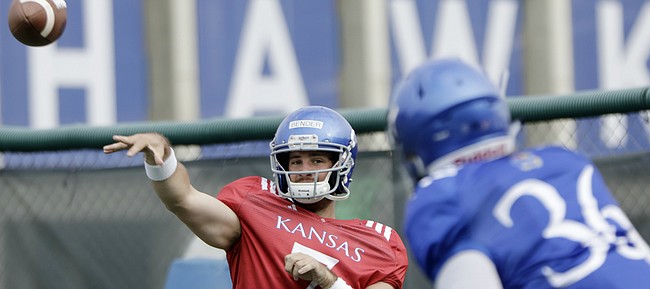 In trying to prevent Southeast Missouri State from finding out the identity of the starting quarterback for Saturday's season-opener, Kansas football coach David Beaty lapsed into double-speak on the Big 12 conference call. That left a significant portion of the fan base wondering if he knows what he's doing at QB, wondering if the Jayhawks are headed for the same old story at the most important position on the field.
Let me help to settle some of those fears about the third-year football coach. He does know what he's doing, he just sounded as if he didn't in trying to guard a secret.
So let me clarify just what is happening with the trigger man in Doug Meacham's offense. Beaty knows the identity of the starting quarterback, so do I, and there is no way that changes by Saturday.
His name is Peyton Bender, a junior-college transfer who started his career at Washington State, where he lost a close battle to Luke Falk, a bona fide Heisman Trophy candidate this season. Recruited to Kansas by Kenny Perry, Bender features a quick release, a long history with the Air Raid Offense, and an arm that is both accurate and strong enough to make all the throws. He has a confident air about him without displaying even a hint of obnoxiousness that quarterbacks often carry.
Even if Carter Stanley had not injured his hand, Bender would have been the guy, so if it's ever revealed that Stanley suffered a hand injury, nobody should think Bender won the job by default.
As for Saturday's backup for Bender, well, can't help you there. I don't know the extent of Stanley's hand injury, whether it's something that will keep him out of the opener, or even six weeks, or however long.
Beaty isn't the first coach to try to hide injuries. It behooves him to have Southeast Missouri prepare for both Bender and Stanley. Every opponent must be treated with equal respect, so it shouldn't freak anybody out that he's in secrecy mode for the opener.
Beaty's injury policy now involves simply stating whether a player is unavailable. Stanley is not listed as unavailable this week, which of course is not the same as saying he's available, in much the way that a "not-guilty" verdict doesn't necessarily mean "innocent."
"We also have a third guy in Tyriek Starks who actually also had a really nice fall camp," Beaty said on the call. "It'd be nice to get to a point some time to be able to get him live reps to see what he can do. We were pleased with his progress also throughout fall camp."
If Stanley isn't available, even though he's not yet listed as unavailable, then keeping Bender healthy becomes the No. 1 priority for an offensive line that can best be described as both improved and still young.
It's best if Starks gains his first game experience when Beaty can afford to play him — in other words late in a game that already has been decided — rather than when he has to play him because the first two quarterbacks aren't available.
As long as Bender and Stanley don't ever miss the same game with injury, KU should have its best quarterback play in years, but quarterbacks do suffer injuries at a high rate, so depth at the position is looking a bit tenuous at the moment.