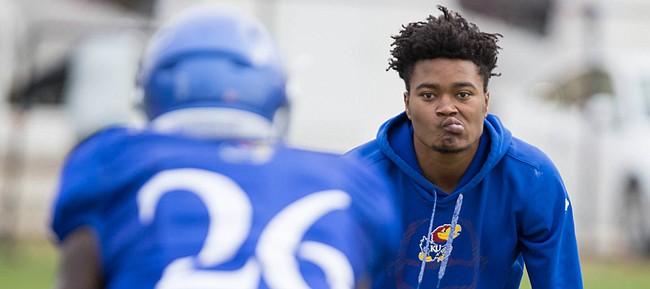 When David Beaty announced the signing of running back Octavius Matthews this past February, the Kansas football coach envisioned Matthews, a junior college standout, becoming a versatile weapon in KU's Air Raid offense.
The Jayhawks won't get to see Matthews reach that on-field potential, though. Beaty divulged Monday night during his first Hawk Talk radio show of the season the 6-foot-1, 200-pound junior running back, who had been held out of preseason practices, won't play for Kansas this fall — or ever.
The running back has a heart condition and was deemed unfit to continue his career. Matthews' mother, Kristy Bradford, died due to heart complications this past May, a few weeks removed from attending the Kansas spring game at Memorial Stadium, with her son.
Although Beaty didn't give specific details on his show, he said Matthews, freshman receiver Kenyon Tabor, sophomore offensive lineman Cam Durley and senior running back Denzell Evans will miss the coming season due to injuries.
KU's third-year head coach thought upon signing Matthews, rated by Rivals as a three-star juco prospect at Itawamba Community College (Miss.), he possessed the "top-end speed," ball skills and play-making ability to be an immediate difference-maker for KU. Beaty pictured Matthews lining up in the backfield or the slot and considered signing the back from Stevenson, Ala., "one of the biggest victories" of KU's 2017 recruiting haul.
"The thing that's going to be great for him is how many different ways we get him the ball," Beaty predicted at his February Signing Day press conference. "That's what we're most excited about with that guy. If he's better running the football, we'll hand it to him. If he's better catching it, we'll throw it to him. If he's better at both, we'll use him doing both."
KU running backs coach Tony Hull, too, projected a promising future for Matthews.
"This summer he was tearing it up. He looked really, really good," Hull related earlier this month.
While not being able to participate at preseason camp qualified as a bummer for Matthews, Hull said before news of the running back's condition came out the junior was handling his time as an observer well.
"We're family in that room," Hull said, "and everybody is just there for him."
Jayhawks junior quarterback Peyton Bender, who both handed the ball off and passed to Matthews in 2016 for ICC, witnessed the big back average 7.2 yards per carry and and 14.7 yards per reception while scoring eight total touchdowns in nine games.
"He's just a really good play-maker," Bender said of his teammate earlier this year. "Explosive player. Really fast. He's a versatile player, as well. He can move around and play different positions, not just play running back."
Matthews de-committed from Auburn, and his final three schools included Tennessee and Purdue before he became a surprise signing day addition for KU.
While Matthews never will suit up for the Jayhawks, Beaty said "he will certainly be a part of our program as we move forward."
The head coach said Matthews, Tabor, Durley and Evans are "great kids," but unfortunately the "injury bug" hit them.
Beaty described Tabor, a 6-4 true freshman from Derby, as "promising," and said the receiver will redshirt this fall.
"We think he'll be back full-speed and ready to go by next year, and I think it'll do wonders to help him, because he's already a big dude," Beaty said, "and in a year I could see him being a giant."
A 6-6 sophomore O-lineman, Durley, also has a "bright future," according to Beaty.
A senior who began his college career at Arkansas and played sparingly in 2016 for KU, Evans suffered at a preseason practice what Beaty described as a "horrific injury." Two weeks back, Evans was seen using crutches, watching practice from the sideline.